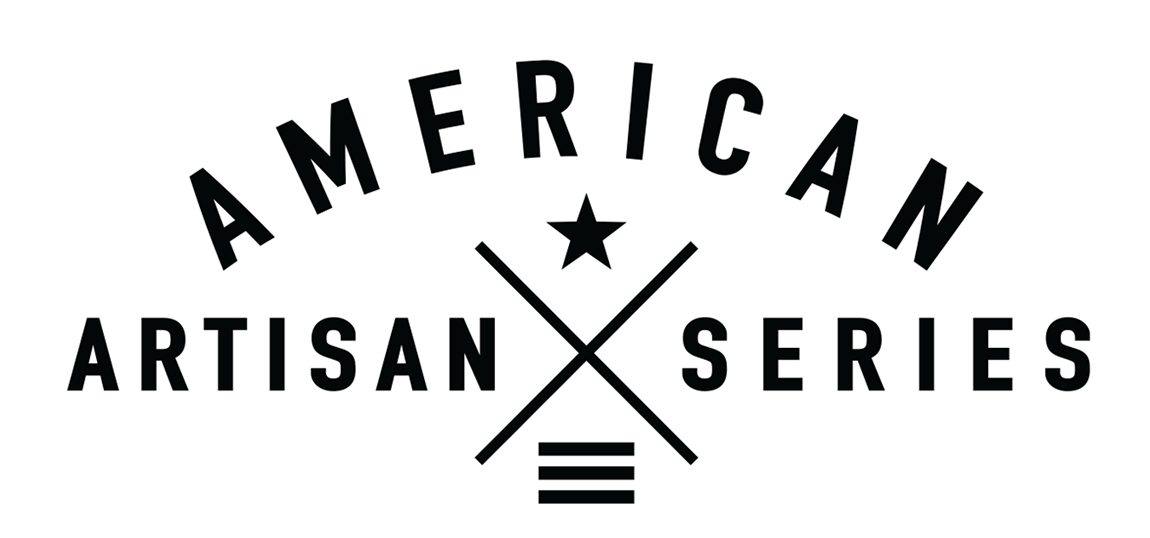 The American Artisan Series is the only truly American made watch built today. Each of these one-of-a-kind timepieces is fabricated using antique, U.S. made pocket watch mechanisms and a wide array of custom options. There's something special about these wristwatches, a legacy that the wearer can carry with them everywhere they go.
Legacy
The American Artisan Series is a line of fully American Made wristwatches powered by restored, U.S. made pocket watch movements. Each watch contains the original movement (timepiece), dial (face), and hands from a vintage (1880's – 1950's) pocket watch made by one of the original great American watch companies. Vortic Watch Company is pairing cutting edge technology with beautiful, authentic, quality timepieces made 100+ years ago to preserve an important part of United States history in a functional way.
Beautiful
American-made pocket watches were of such a high quality and decoration that they evolved into more than just a way to tell time. They became traditional heirlooms to be inherited by future generations as wedding gifts or a coming-of-age treasures. Each timepiece tells a lively tale of what U.S. manufacturing meant in the past using an intricate language of decorated bridges, plates, gears, and springs. Today, the original gold and silver cases are scrapped for their precious metal value, and the beautiful mechanisms are cast aside and forgotten. Vortic Watch Company takes these "orphans" and gives them a new life.
Innovation
Every component of the Artisan Watch Series case is built to outlast a lifetime of abuse like the movement inside it. The second generation of the American Artisan Series watches feature 3D printed titanium cases, CNC machined bronze and titanium cases, a water resistant design, milled case backs, upgraded hardware, a sleeker/thinner aesthetic, updated internal construction, and additional leather strap options.
Personal
The movements used in the American Artisan Series watches are actual pieces of United States history. Every time you look at the beautiful mechanism, it connects you to the hardworking people who helped build a nation. We invite you to use your own pocket watch in an AAS conversion to make a functional piece that is personal to you. Each wristwatch is assembled by hand, one-at-a-time, in our Northern Colorado workshop, so every customer's project gets individual treatment.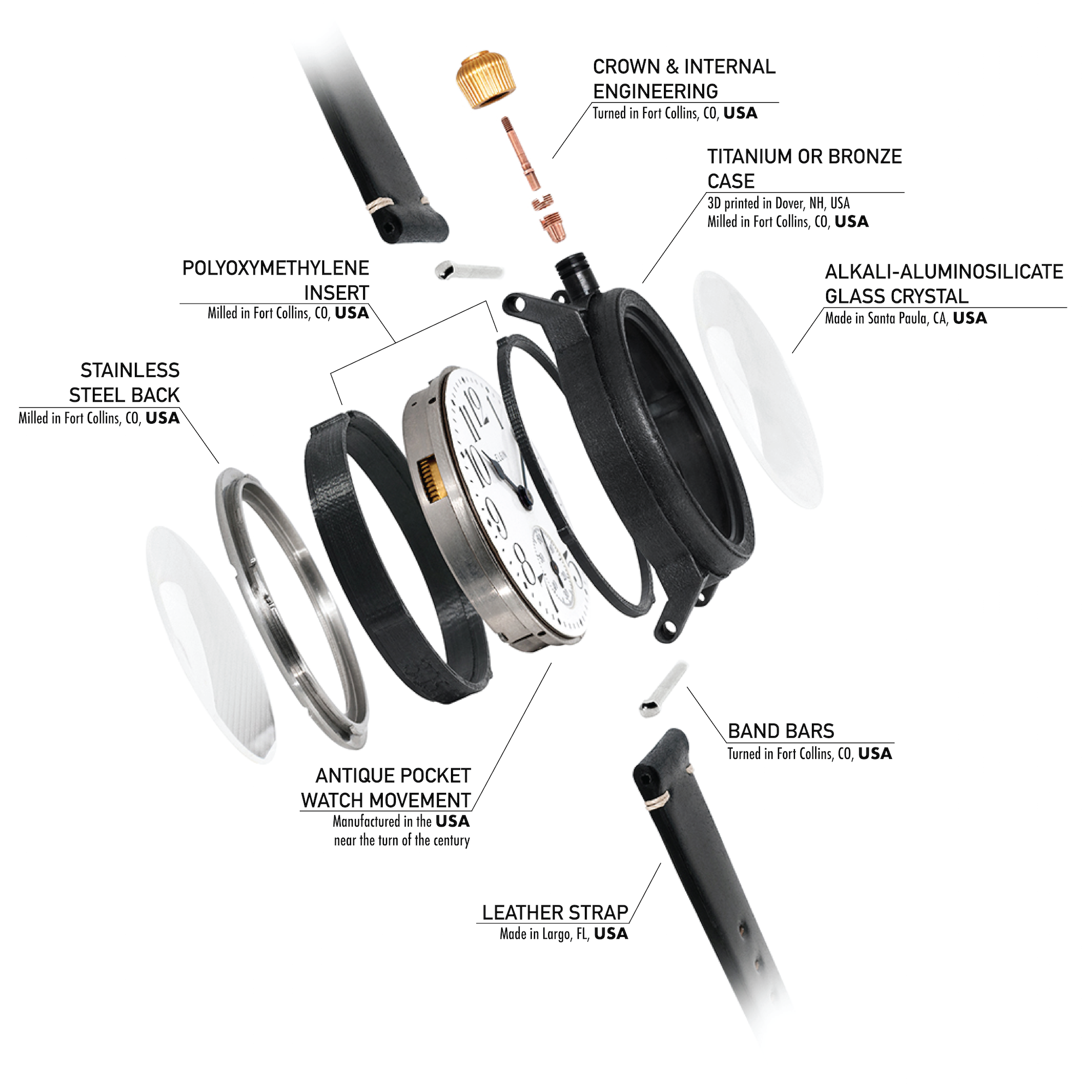 Movements
The movement of a watch is the mechanism that powers the hands and regulates time. The American Artisan Series is built using antique, American-made pocket watch movements. Each vintage movement is meticulously restored and tested before use in a casing system. Vortic has a variety of sources for antique pieces, but movements are primarily sourced from individuals who buy jewelry store and watchmaker estates. The owners of these estates almost always made a portion of their money from scrapping pocket watch cases for their precious metal value, but this left the beautifully decorated movement exposed and without a home. Vortic has dedicated itself to rescuing these movements and making them relevant again.
Case
Research
Vortic is working to learn more about Titanium 3D printing through a research grant at Pennsylvania State University.
3D Printing
All Artisan Series water-resistant cases are 3D printed from titanium by Imperial Machine and Tool in New Jersey. This company specializes in advanced machining practices for the aerospace and military industries.
Machining
Vortic uses a HAAS mill to machine the internal features of the case as well as the stainless steel back piece. The company is constantly bringing operations in-house to improve quality, design, and overall capabilities.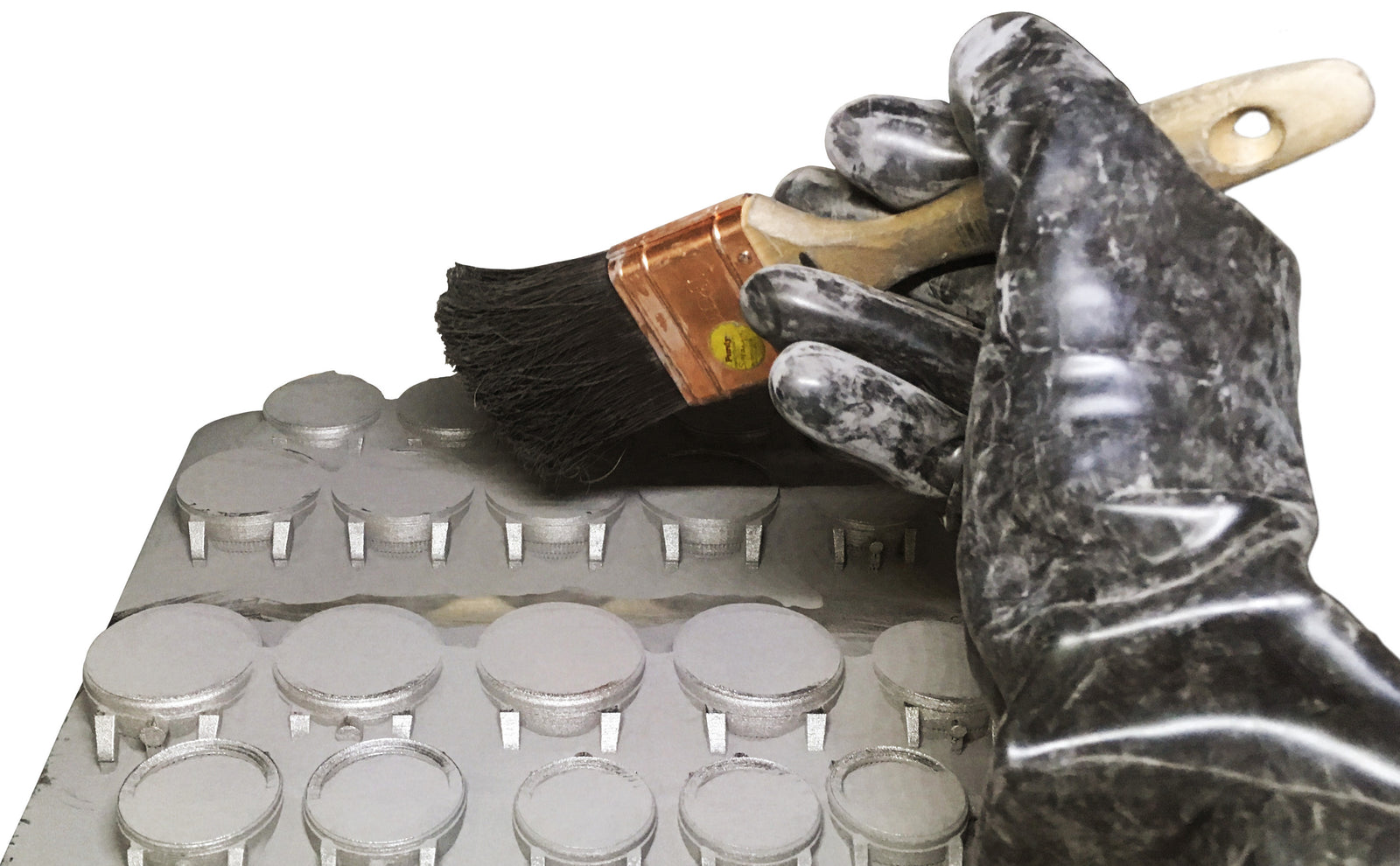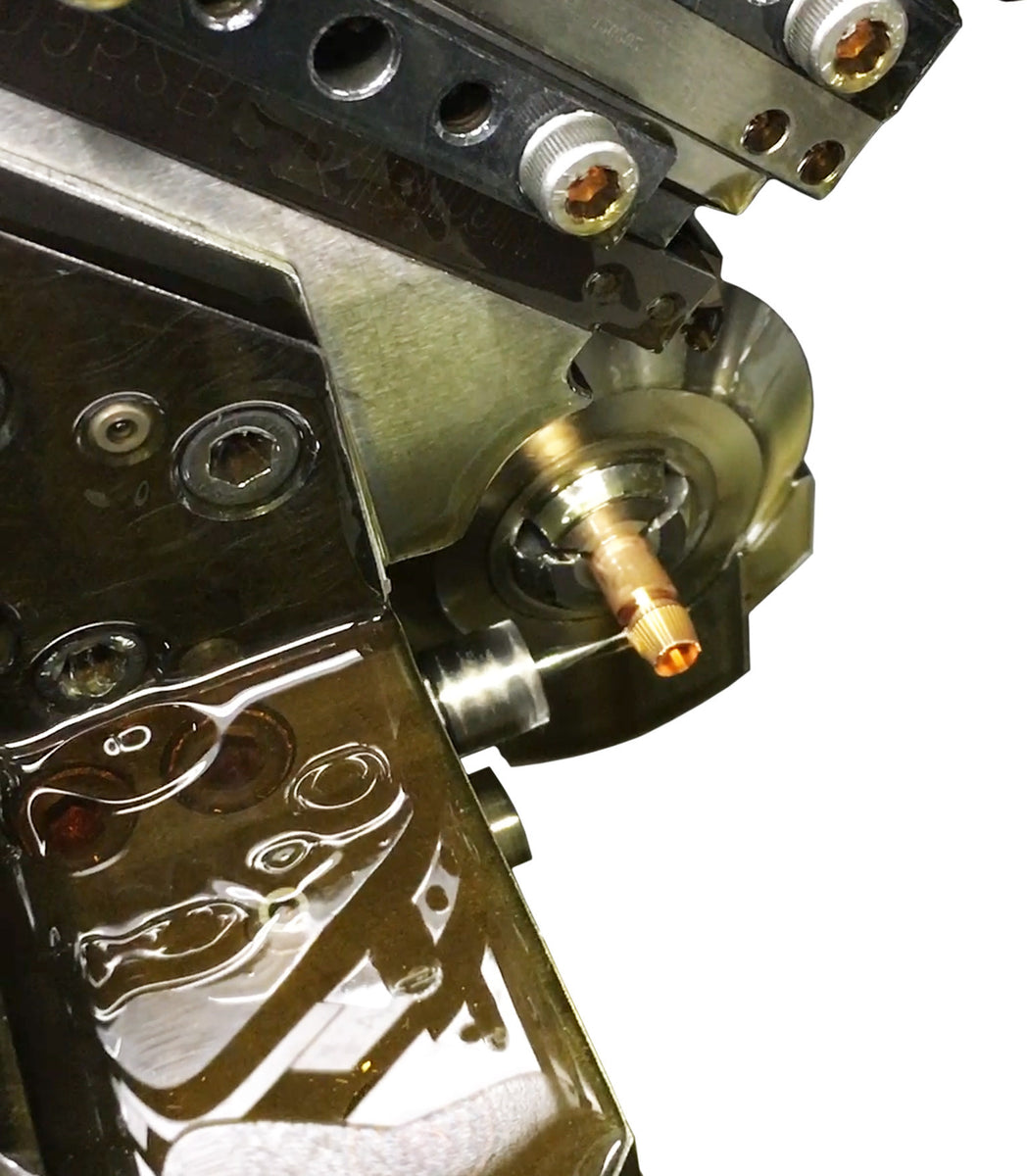 Hardware
The crowns, screws and other internal parts are masterfully swiss-turned at Swiss-O-Matic in Montrose, CO. Running a swiss-turning machine takes a great deal of specialized skill, and we are lucky to have one of the top facilities in the United States in our back yard.
Crystals
The dual crystals on each watch are made from Corning Gorilla Glass and precision cut by Abrisa in Santa Paula, CA. Gorilla Glass is known for its use on smartphones, and it is used to encase Vortic's watches for its superior clarity, resistance to shattering, and scratch resistance.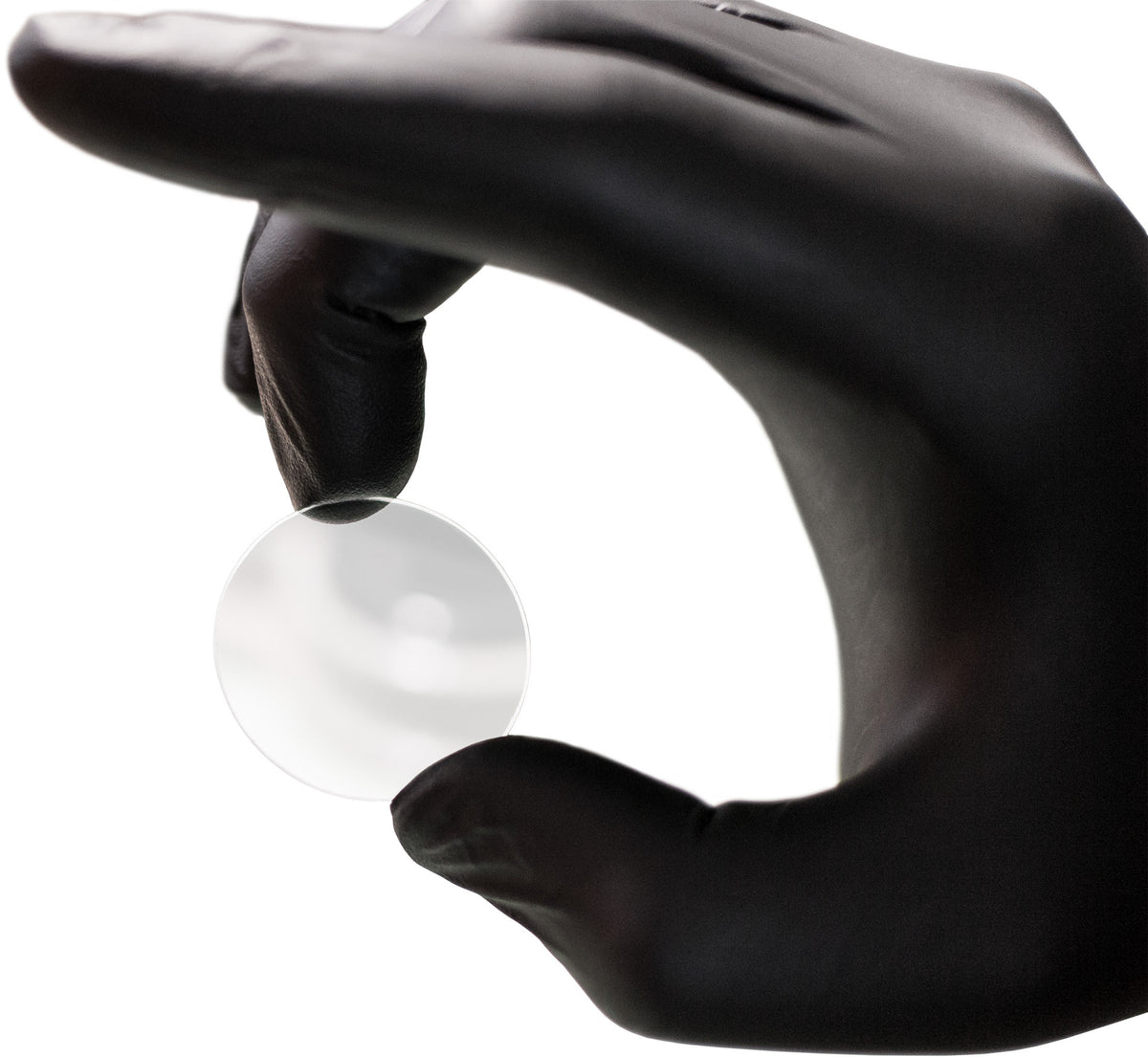 Leather
Vortic's standard watch bands are built from Stylecraft American cowhide leather, and there is an optional upgrade to premium, Famous Horween Shell Cordovan horsehide leather from Chicago, IL.
Fabrication
All of the American Artisan Series straps are hand-crafted from American made materials by Hadley Roma's Stylecraft division in Largo, FL.
Buckle
Each buckle is hand-forged by Smith Shop in Detroit, MI. Smith Shop is a relatively young operation, but the company prides itself on offering authentic products with uncompromising quality and attention to detail.