Pre-order The Book
Sign up below to follow along with us as we document our David & Goliath story.
By subscribing to this mailing list you agree to receive periodic emails from Vortic Watch Company about the documentary, book, and supporting products.
Introduction
Vortic Watch Company salvages antique American pocket watches and preserves them inside one-of-a-kind wristwatches called The American Artisan Series. The original Hamilton Watch Company was one of the Great American Watch Companies. They manufactured some of the best timepieces in the world in Lancaster, Pennsylvania between 1892 and 1969. A holding company acquired its assets, which later became the SWATCH Group in the 1970s. 
In the federal lawsuit "Hamilton International Ltd. v. Vortic LLC" Hamilton accused Vortic of Counterfeiting and Trademark Infringement. They sued not only Vortic Watch Company but Robert Thomas Custer (R.T.) personally. They did not like that Vortic's "The Lancaster" products still featured the original Hamilton brand on the dial.
Vortic and its attorney, Robert Lantz had to prove that taking an antique pocket watch and upcycling it into a wristwatch was legal. The industry calls it a pocket watch conversion. Hamilton called it an infringement. We here at Vortic call it "art."
Chapter 1 - "The Launch"
In Chapter 1, R.T. Custer sits down with his co-founder, Tyler Wolfe to document the startup story of Vortic Watch Company. From the original ideas on the golf course at Penn State University in 2011 to the launch of the American Artisan Series on Kickstarter in 2014, the pair have a few laughs thinking back on how far they've come. 
R.T. and Tyler discuss more behind the scenes, how it's made stories as well as a few start-up facts that may have yet to be told. They celebrate the original success of the crowdfunding campaign, have a chuckle about how naive they were nearly a decade ago, and remember to feel proud of the work done so far in pursuit of their American Dream. 
Stay tuned for weekly releases of each chapter, and don't forget to pre-order the book by subscribing above.
Chapter 2 - "Cease & Desist"
In this video, R.T. discusses the very beginning of the Hamilton v Vortic lawsuit with his co-founder Tyler Wolfe. They talk about something many don't know: Vortic received the Cease & Desist letter before manufacturing and shipping a single watch. 
The six-year Federal lawsuit started with an advertisement in WatchTime Magazine and an email from Goliath about how they didn't like it. This was the beginning of a very tough season that R.T. and Tyler did not know how to handle. 
Hamilton v. Vortic was not just about two watchmaking companies fighting over a trademark. It was a legal battle that had far-reaching consequences for the entire watchmaking and upcycling industry. The outcome of this trial would determine the extent of protection afforded to vintage watch parts and the ability of smaller companies to create and market unique products in the industry. But at this phase, the pair simply had to ask: "is what we're doing okay?"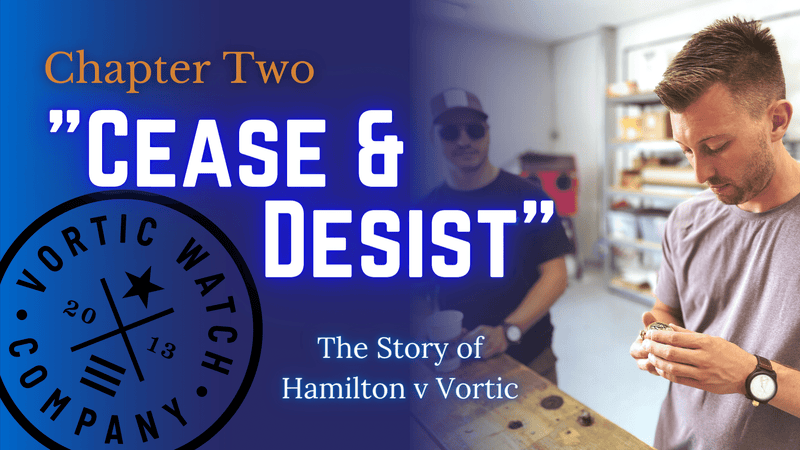 Chapter 3 - "The Letter"
In this video, R.T. talks about what it feels like to be sued by the largest company in your industry. He shares the plethora of other things he tried in order to avoid a lawsuit and a day in court including sending hundreds of emails and linkedin messages to most of the SWATCH executive team.
R.T. also shares what happened when he gave up and send one last hail mary. A personal, handwritten letter to the CEO. "The most expensive letter he ever sent" was met with mockery and a slap on the wrist.
Hamilton v. Vortic was a pivotal case in the watch and jewelry industry. Due to Vortic's victory, Upcylcing is officially protected and can be legally defended. At this time though, R.T. shares just how difficult it was to stay in the fight, and how scary it was feeling so small and insignifcant compared to the opponent.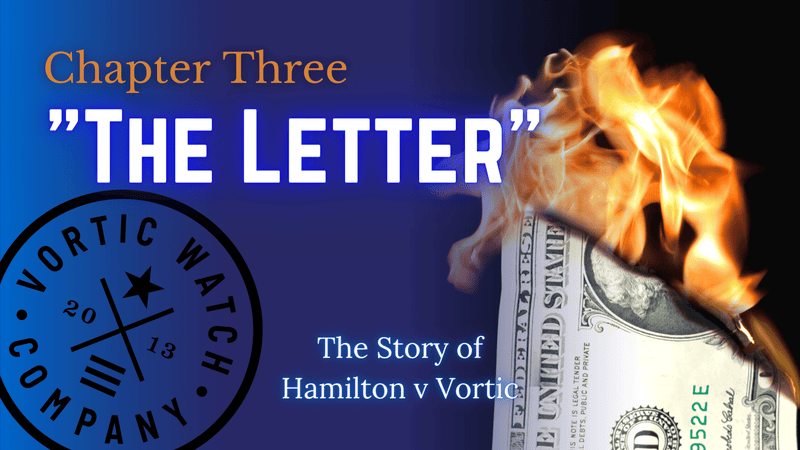 Chapter 4 - "The Deposition"
In this video, R.T. shares his experience with his official deposition in New York City. He takes us there with him, sharing what it felt like and looked like when his American Dream was at stake. The concept of Upcycling was referred to as trash-counterfeiting and he was called a grifter. 
He talks about why most press and news outlets couldn't or wouldn't cover the case, thanks those that did listen and share, and discloses some of his personal experience involving his family and kids, especially what conversations about giving up looked like.
Hamilton v. Vortic was a Federal lawsuit spanning the majority of Vortic's startup life, and R.T. Custer's adult life. What would you do if 6 of the first 8 years of your working life was spent not just trying to grow a new company but also fighting off Goliath? R.T. takes us back and documents what that was like for him.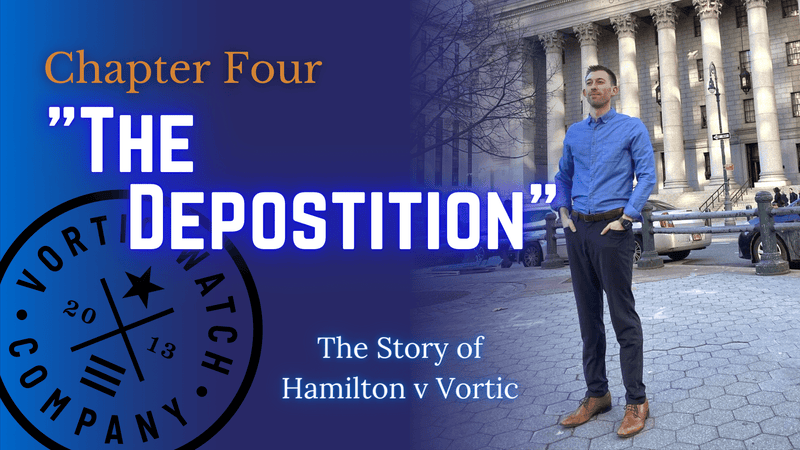 Chapter 5 - "The No-Show"
In this video, R.T. talks about the meeting that was supposed to take place between him and Hamilton's representative – what happened instead will shock you!
R.T. also reflects on the impact that the lawsuit had on his personal life, including the strain it put on his family and the difficult conversations they had about whether to give up or keep fighting. He shares his disappointment and frustration at the lack of response to his communication and the dismissive attitude he and the case got from Hamilton and SWATCH Group.
Through it all, R.T. remained committed to his vision of upcycling and the importance of preserving American history and craftsmanship. He shares his thoughts on the role of small businesses in society and the challenges they face when going up against larger corporations, as well as how much his business partner Tyler, his life partner Lindsay, and his wonderful team of employees meant to him.
Chapter 6 - "Words of Advice"
In this video, R.T. discusses a huge inflection point in the story. One of the many times that advisors, or trusted, very educated individuals basically told him to give up and throw in the towel.
He talks about what that feels like, and how lonely it is to be an Entrepreneur with a big idea that might get taken away. He shares more about other hard conversations he had with others involved, and the conversations with himself around "what if?"
Hamilton v. Vortic was an "interesting case" in the eyes of many, but for R.T. and Vortic, it ended up being an amazing learning experience. Not just about the law, or how to financially survive a legal onslaught from a massive conglomerate, but about himself and themselves as a company. What do they stand for, and how long are they willing to stand up?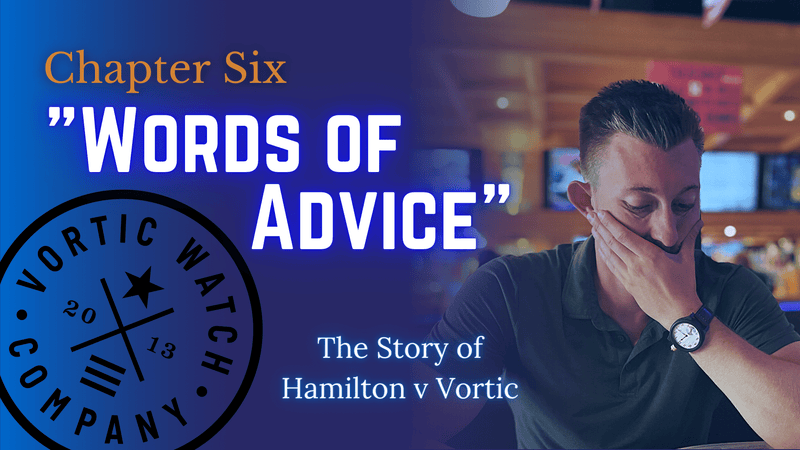 Chapter 7 - "The Best Bankruptcy Attorney in Colorado"
In this video, R.T. interviews Robert Lantz of Castle Lantz Maricle. The pair think back to that time R.T. and the Vortic team all but gave up hope. 
R.T. shares a never before told story of sitting in the parking lot Google searching "Best Colorado Bankruptcy Attorney." Watch the video to hear Rob's side of the story. 
Hamilton v. Vortic was by no means an "easy case" for all those involved. It took a special type of team to look Goliath in the eye and stand up to the big corporations involved. There is no "I" in team, but there was a Rob Lantz.
Chapter 8 - "Our Hail Mary (The Military Edition)"
In this video, R.T. and Rob Lantz talk about the 'Hail Mary' Vortic threw in 2019. The company needed to make more money in order to survive, so they launched the first Military Edition watch. 
The response was overwhelming. Customers rallied behind Vortic, and the company made $250,000 in just 24 hours. This success not only saved the company but also created a groundswell of support that lasted for years.
Hamilton v. Vortic could have easily gone all the way to the Supreme Court, so R.T. and the Vortic team needed to save their money and protect their American Dream. Thankfully they weren't alone and this David v Goliath story could continue towards a victorious outcome.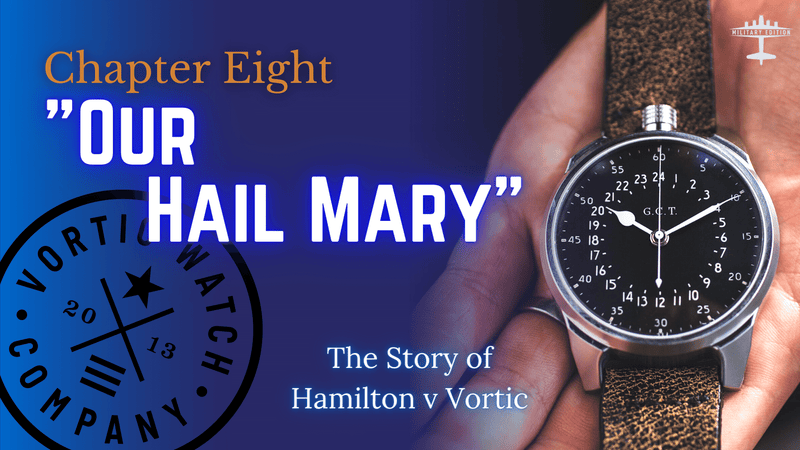 Chapter 9 - "The Hot Mic"
In this video, R.T. reminisces about the Public Relations pivot and how telling the story, not just about watches, but about helping others, especially helping US Military Veterans, finally got the attention of national news. 
Famous Fox News anchor Jon Scott not only told the story, but helped put both Vortic Watch Company and the Veterans Watchmaker Initiative on the map. With over 6 minutes of prime time coverage, R.T. and the team finally got their day in front of the court of public opinion. 
Hamilton v. Vortic wasn't just two small watch companies in a lawsuit. A massive foreign conglomerate was threatening to stop a team of American Dreamers. Thankfully, with a large enough stage, that team was able to not just defend the dream, but enable many others.
Chapter 10 - "Prep Work"
In this video, R.T. and his attorney Rob Lantz talk about the last minute prep work in the hotel in NYC the night before their big day in court. "Just tell your story. You never did anything wrong. We simply need the judge to hear all of your side."
Imagine the day before battle. Preparing for anything. Thickening the skin. Talking it all through. Making sure they were ready. Rob and R.T. give you an inside look throughout this video. 
The landmark lawsuit Hamilton v. Vortic came down to one day in Federal Court. Judge Alison Nathan was set to hear both sides and make a decision on the fate of Upcycling in America. The day was February 19, 2020 and the team was in the Southern District of New York. This would become one of the most important days of R.T.'s life.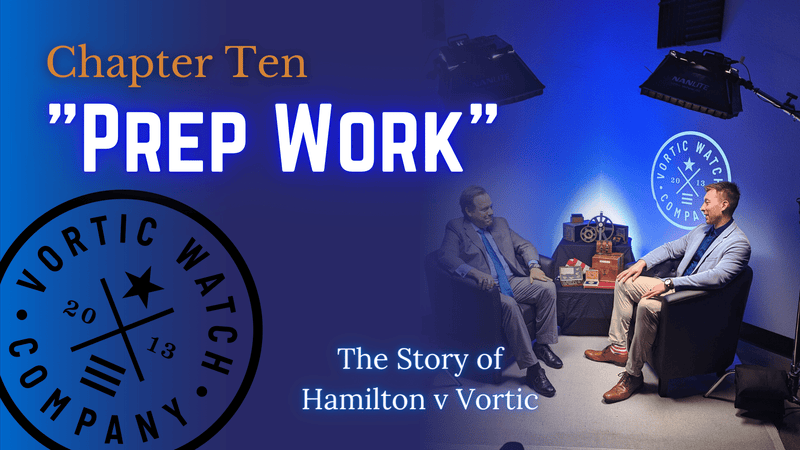 Chapter 11 - "The Star Witness"
In this video, R.T. and his attorney, Rob Lantz, finally get to laugh together remembering one particular part of the story: the "key witness" for the prosecution and the poorly planned testimony that created an opportunity for Vortic and team to win. 
"They were so confident they had us beat, it seemed as though they didn't even prep their star witness." Rob and R.T. share all the details in this video so you don't have to go read the Federal Court documents. 
The day was February 19, 2020. The entire concept of Upcycling was on the line. SWATCH thought they had it in the bag, but Vortic and team were victorious, in part due to this massive inflection point.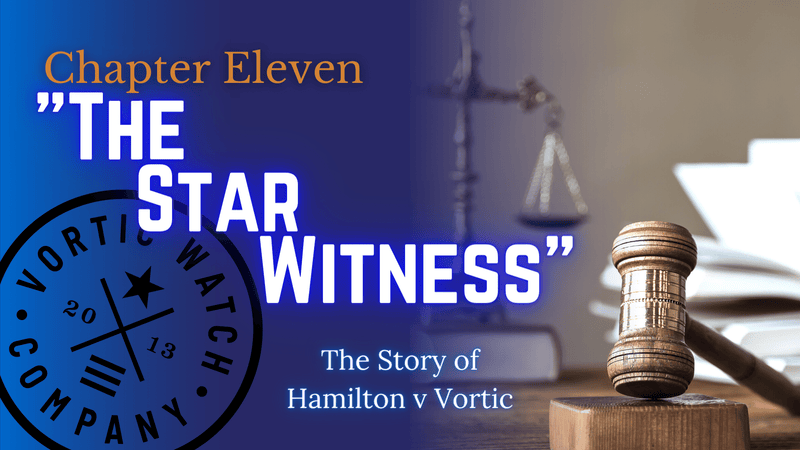 Chapter 12 - "Exhibit A"
In this video, R.T. and his attorney Rob Lantz share what it's like to sit in a Federal courtroom in New York City defending Vortic Watch Company, the idea of Upcycling, and R.T.'s American Dream. 
"The room itself was something out of a movie. I wish we had video of the day. It was one of the most important days of my life. I'll never forget that feeling." - R.T.
R.T. describes what happened that day in court, including getting "ripped a new one" by Hamilton's attorney and handing his personal watch, now called "Exhibit A" to the Judge while describing the American Artisan Series and explaining the story of Vortic Watch Company thus far.
Chapter 13 - "Bad Things Happen in Threes"
Coming Soon. Make sure you sign up to pre-order the book and you'll be notified when new chapters are available.
Victory Watch Waiting List
Sign up to learn more about the Victory Watch and be alerted when future batches are available
By subscribing to this mailing list you agree to receive periodic emails from Vortic Watch Company.
The Victory Watch: First Batch
DIsclaimer
THIS VIDEO AND BOOK IS DESIGNED TO GIVE AN ACCOUNT OF COMPLETED LEGAL PROCEEDINGS INVOLVING VORTIC WATCH CO. FROM INDIVIDUAL PERSPECTIVES. THE INFORMATION, THOUGHTS, OPINIONS, AND EXPRESSIONS CONTAINED IN THIS VIDEO AND BOOK BELONG TO THE INDIVIDUAL PRESENTING THEM AND DO NOT NECESSARILY REFLECT THE THOUGHTS AND OPINIONS OF VORTIC WATCH CO. THE INFORMATION PROVIDED IS NOT A SUBSTITUTE FOR CONSULTING WITH AN EXPERIENCED ATTORNEY AND RECEIVING COUNSEL BASED ON THE FACTS AND CIRCUMSTANCES OF A PARTICULAR LEGAL PROBLEM.