The Military Edition Launches on November 11th at 12pm MST
SIGN UP FOR THE WAITING LIST
Join our waiting list for early access to the 5th Edition (Veterans Day 2023) and an exclusive opportunity to order the next Military Edition.
By subscribing to our Military Edition waiting list you agree to receive periodic emails from Vortic Watch Company regarding the launch of the next Military Edition.
Did you see us on Jack Ryan?!
A few years back we received a request for "military style" watches from the producers of the hit Amazon Prime series Jack Ryan. We sent our 2nd Edition to actor Michael Kelly for review, and he absolutely loved wearing it in Season 3.
The star who plays Jack Ryan, John Krasinski, saw the Military Edition on Michael's wrist and wanted one for himself for Season 4, the final season. How could we say no to "Jim from the Office?!" We made him a special version the 3rd Edition which you can see throughout the whole season!
Check out the fully story on Gear Patrol at the link below, and send us screenshots when you see our Military Edition watches in action!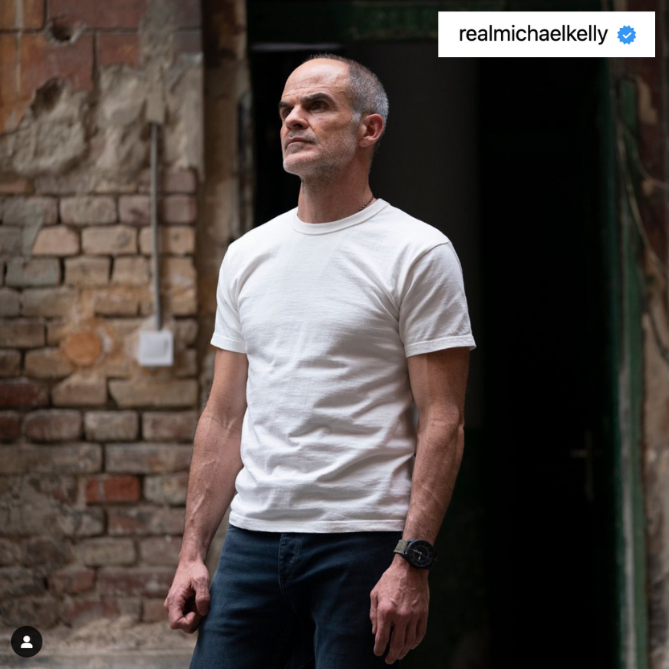 Introduction
A few years ago a gentleman brought us a pocket watch. It was a family heirloom and he wanted us to turn it into a wristwatch, as we've done for so many others. This pocket watch was different though. We don't see many with black dials, and we'd never seen one with a 24-hour dial.
After consulting some of our historical advisors we realized this one was special. Built for the United States Army Air Corps beginning in World War II, this timepiece has been called "The Watch That Won The War."
Today though, there's not much use for a pocket watch, so regardless of its story, these pieces of history are lost, forgotten, and basically thrown away by their owners... until now. We built the Military Edition not just to save these pocket watches, but to celebrate the extraordinary provenance inside each one.
The Pocket Watches
The AN5740-1 was commissioned by the United States Government at the beginning of World War II and built for the Army Air Corps. There were strict requirements for this timepiece because the brave soldiers in the skies needed to know the accurate time.
Three of the Great American Watch Companies were up to the task. Elgin from Illinois, Waltham from Massachusetts, and Hamilton from Pennsylvania all built mechanisms that met these specifications. To make the mark, all three companies decided to retrofit their most valuable and accurate Railroad Grade movements.
The dials were all standardized to be black with simple, white 24-hour markings. Each had a set of white hands, and a long sweeping second hand with a hacking feature that allowed the timepieces to be synchronized for coordinated missions.
Time In The Skies
Called the Master Navigational Watch, these pocket watches were used by the Navigator on Bomber aircraft like the B-17, B-24, and B-29. Each dial was marked with "GCT," known at the time as Greenwich Civil Time because that was the standard European timezone. Now called UTC or Coordinated Universal Time, it relates to the time at 0 degrees Longitude which is the location of the Royal Observatory in Greenwich, England.
When determining your location by using the stars, if your watch is off by about four seconds, you could be as much as one nautical mile off course. For that reason, these pocket watches needed to be extremely accurate and were even mounted inside gimbal systems to protect them from the aircraft vibrations.
It is said that General Henry Arnold, commander of the Army Air Corps during the European campaigns thanked the watch companies for "providing aircraft instruments that played such an important part in [the Allies'] completely successful victory."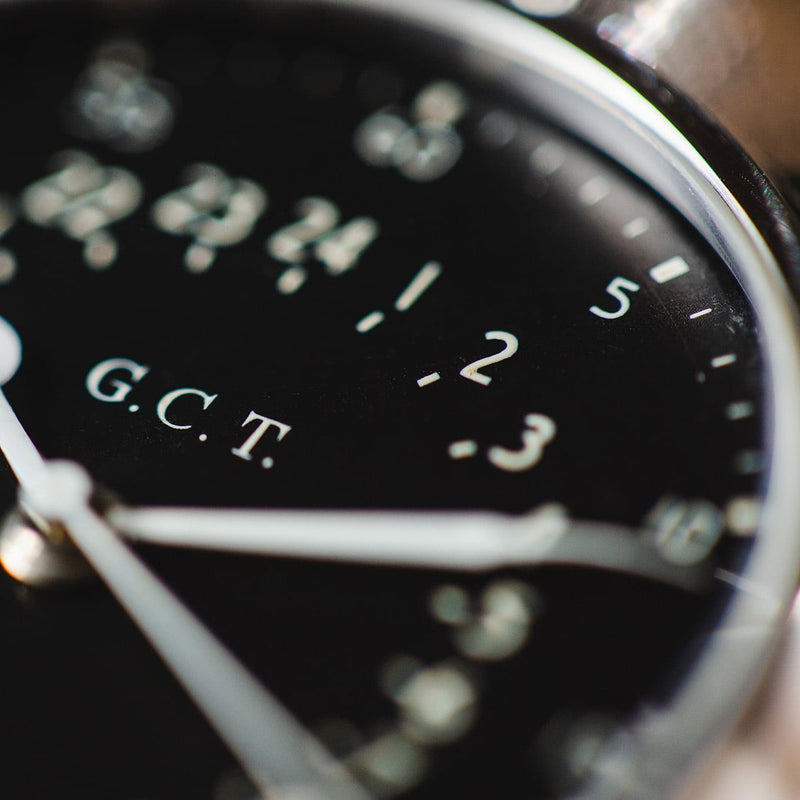 Restoration Of The Original Antiques
Most of the movements we find were manufactured between 1938 and 1950. They were likely used in war-time but were discarded or forgotten shortly afterward. This means the original mechanical, manually wound mechanisms have not been properly serviced or cared-for in recent years.
Vortic's team of expert watchmakers meticulously restores each movement to near factory conditions using only original parts. Thankfully, because these were built as tools for the U.S. Military, extra parts were built for field servicing. We even have access to the original field service manuals from the, now defunct, watch companies!
We do the best we can to restore and regulate each one, but "perfect" timekeeping similar to a modern wristwatch is not achievable. Each watch will be adjusted to keep excellent time on a day to day basis, but there will be variations from watch to watch.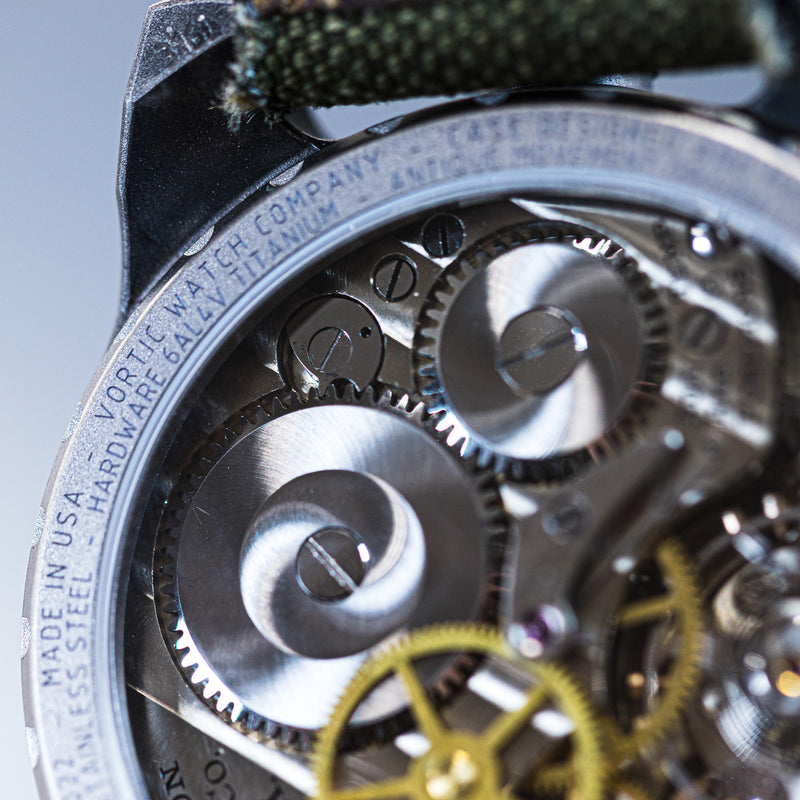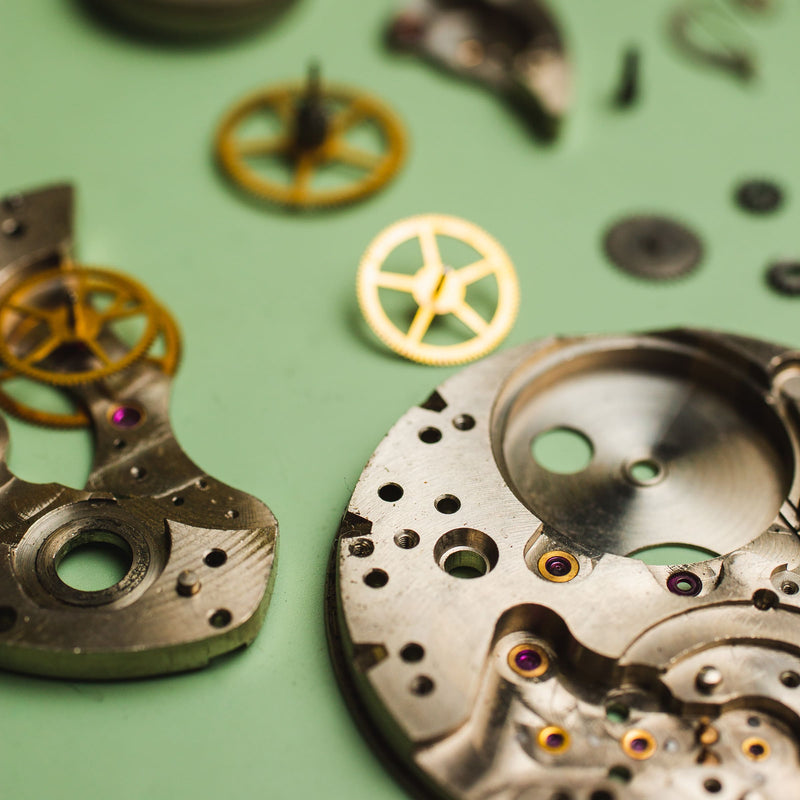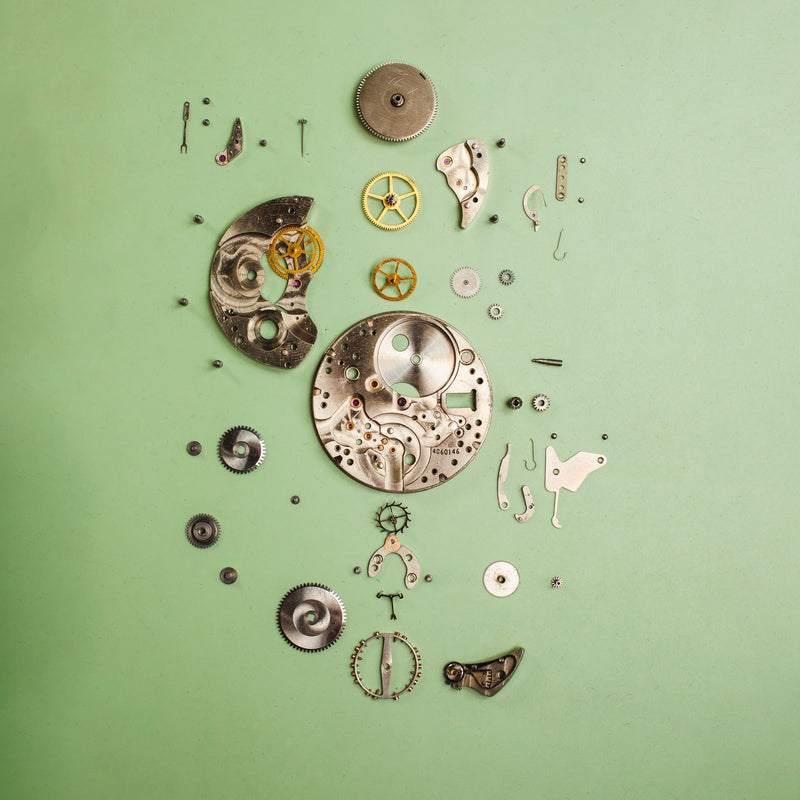 The Wristwatch Engineering System
Vortic is an engineering and manufacturing company with expertise in converting antique American pocket watch movements into wristwatches. The American Artisan Series and Railroad Edition are engineering systems designed to protect and preserve pieces of American history.
The Military Edition is a special example of this technology and has been over-built to house these extremely rare and valuable military mechanisms. Every case component has been precision cut from blocks of 316L Stainless Steel, Aluminum Bronze and Titanium inside Vortic's Colorado manufacturing facility.
Only the best materials were sourced for this project due to the priceless nature of the timepieces being converted. The case is 49mm in diameter which is on the larger side of average, but we've sloped the lugs around your wrist and kept the crown at 12 o'clock to achieve a comfortable fit.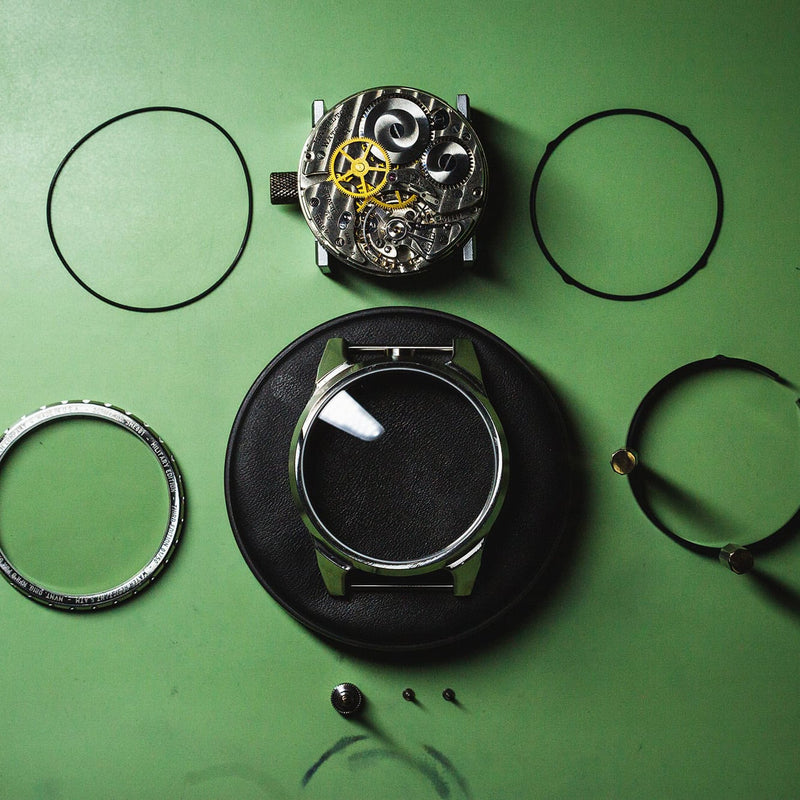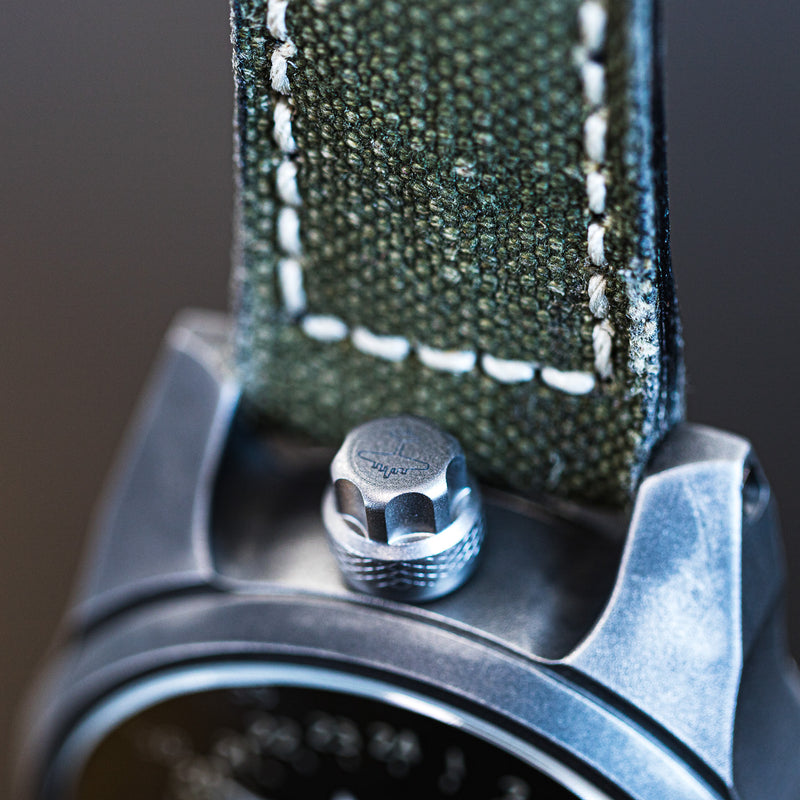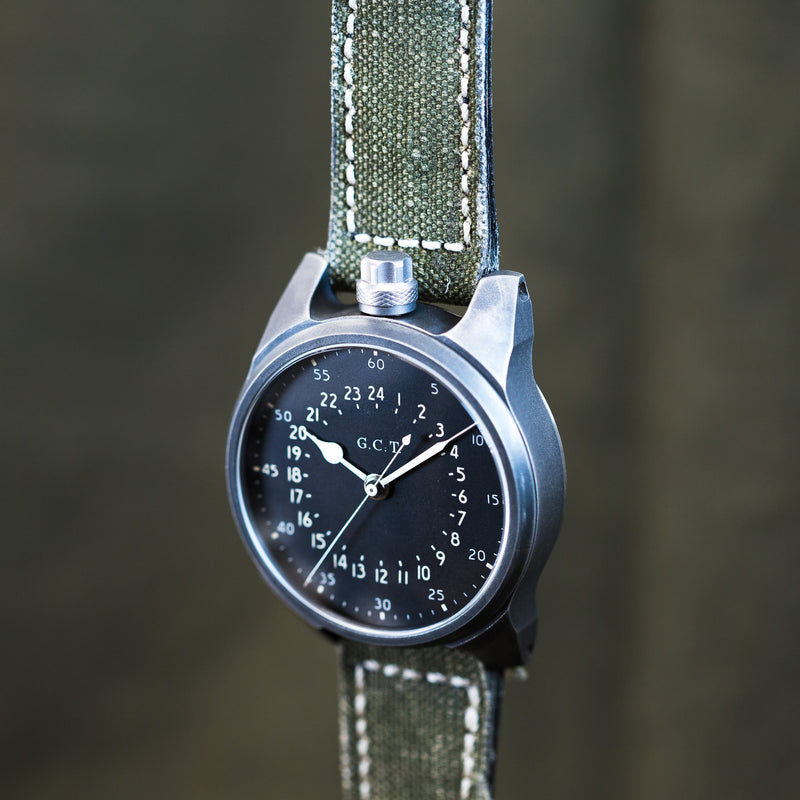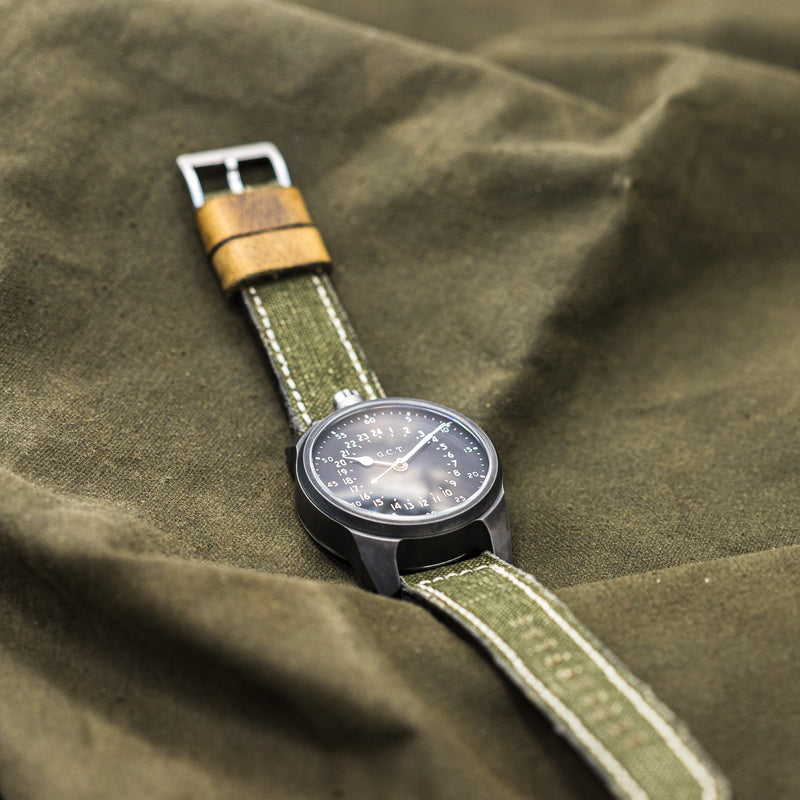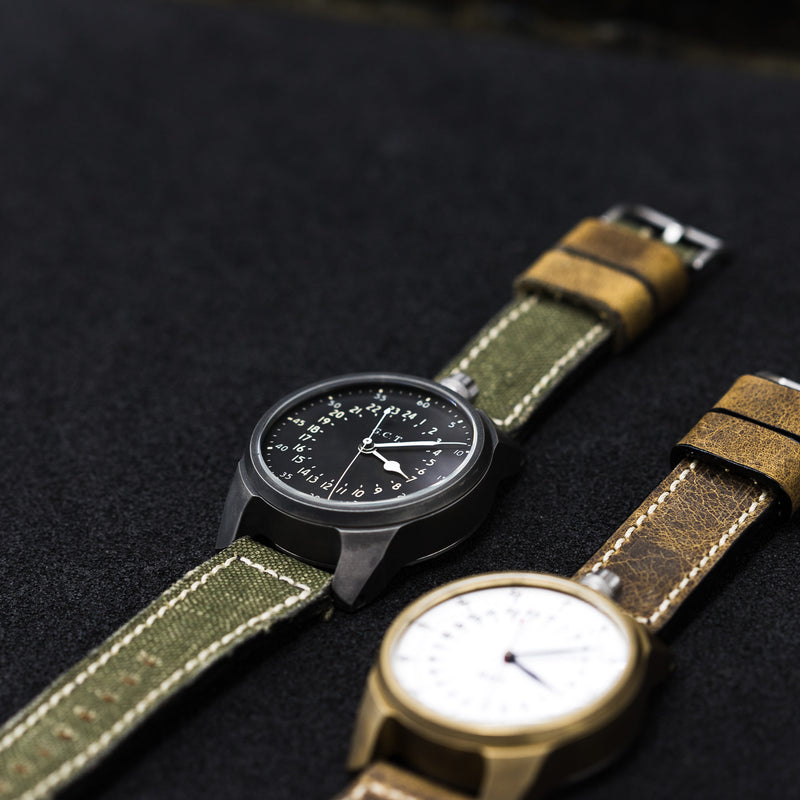 The Glass Crystals
For the front crystal of the Military Edition, we decided to do something different than our other watches. The custom domed glass is handcrafted for us by White's Crystals in San Francisco. Mr. White recommended a special German-engineered glass for this project with similar properties to Sapphire.
The domed glass creates a beautiful side profile that makes this watch stand out from all others. It also makes more room inside the watch for the very tall pinion holding the hands.
On the back, we used Corning Gorilla Glass just like our other watches. The scratch-resistant crystal has a clarity rating of nearly 100 meaning it's completely transparent and perfect for showing off the piece of American military history inside.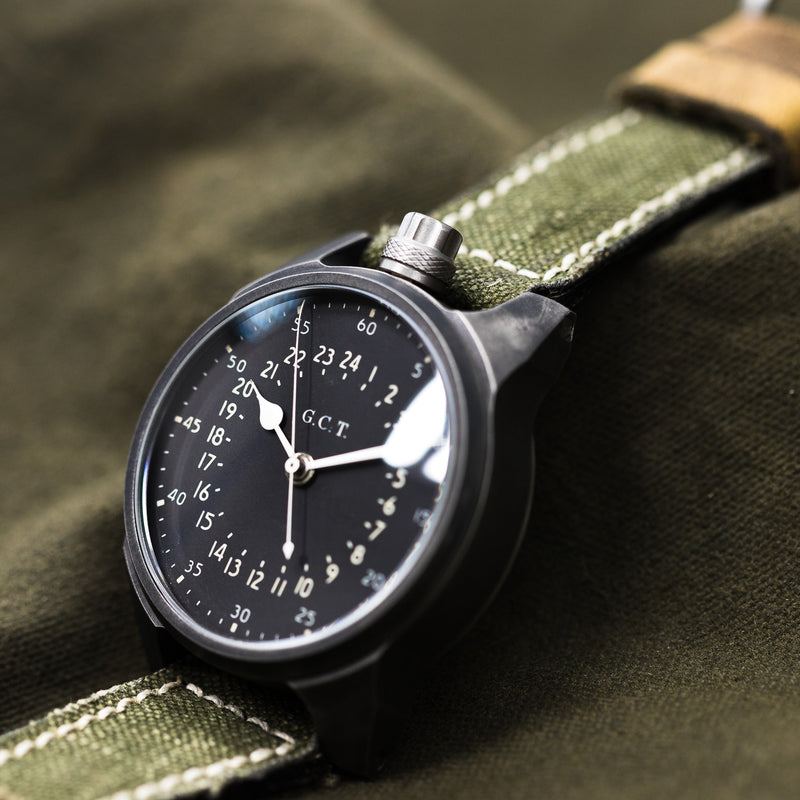 The Hand Crafted Straps
A watch this special can't have any normal wrist-band, and it shouldn't come with just one. That's why we partnered with Greg Stevens Design in Salt Lake City. Greg typically makes just one strap at a time for individual consumers, but we were able to convince him to collaborate with us on this project and craft two custom straps to accompany every Military Edition watch.
The first is hand-cut from vintage military canvas duffle bags. The army green canvas strap gives even more meaning to the name Military Edition. The second strap is the fun one. The leather is called "Bomber Jacket" because it looks and feels like a vintage, well worn, airmen coat.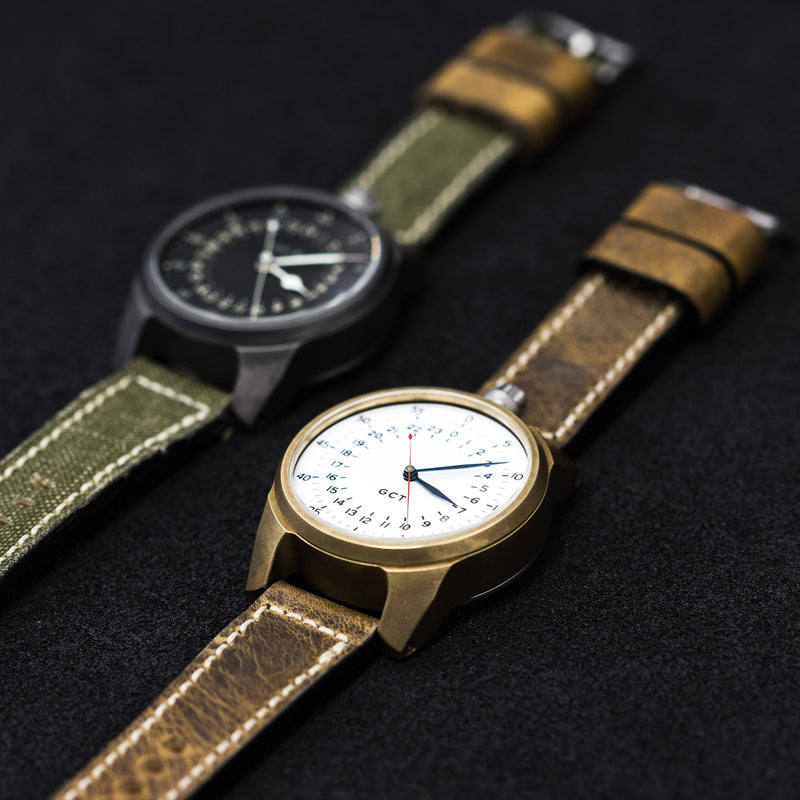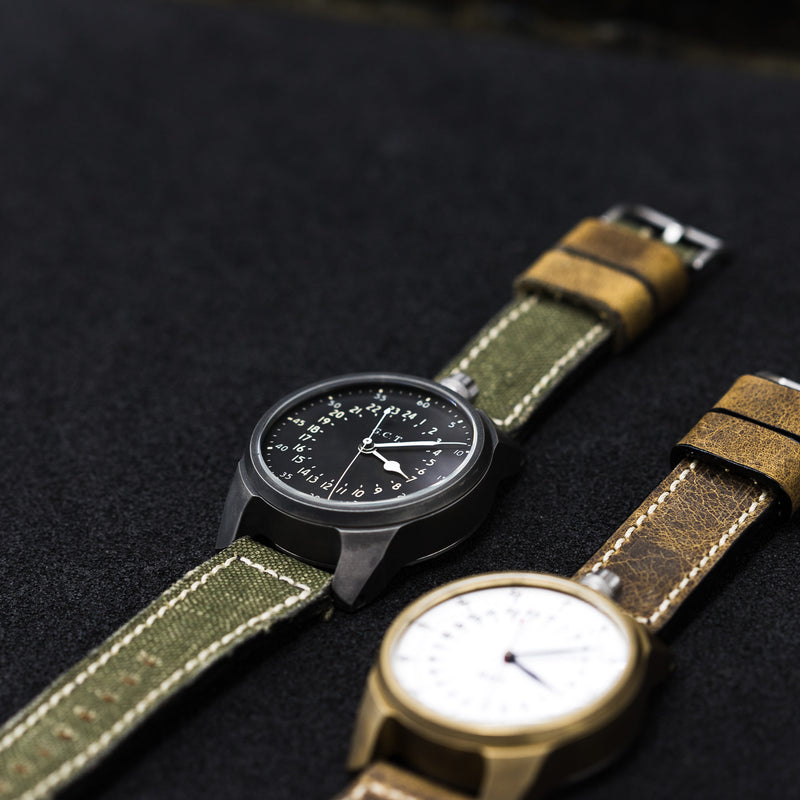 The Veterans Watchmaker Initiative
We've partnered with the Veterans Watchmaker Initiative to provide jobs to U.S. Military personnel when they come home. $500 from the sale of each Military Edition watch will directly benefit their mission to educate and certify the next generation of American watchmakers.
With the rise in popularity of vintage and mechanical wristwatches, there's an ever-growing need for skilled watchmakers to restore and service these timepieces. Every watch company from Vortic to Rolex is actively seeking trained workers and the Veterans Watchmaker Initiative is filling those skill-gaps.
The current program can only train about 20 students at a time, but there are hundreds on the waiting list. By purchasing the Military Edition you will be directly impacting the Past, Present, and future of American watchmaking.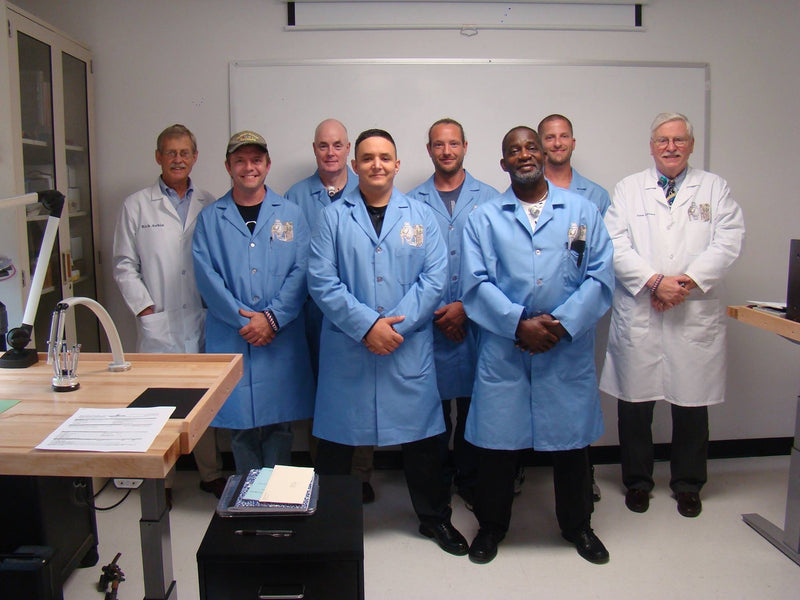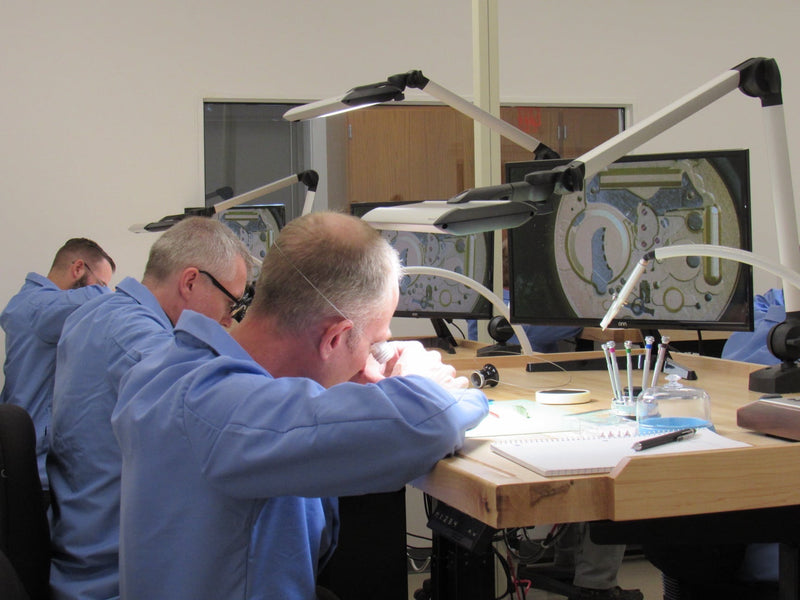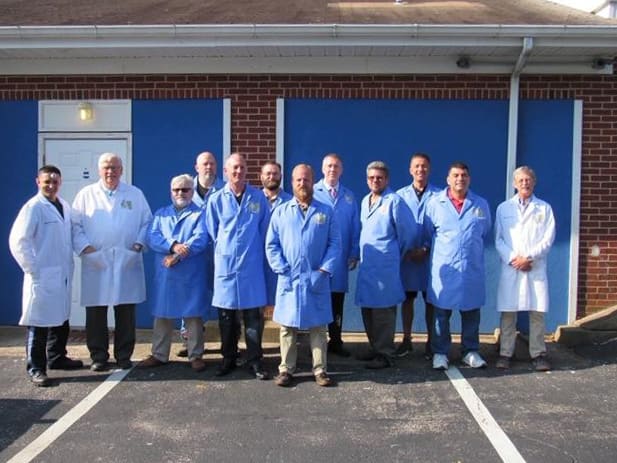 Support With A T-Shirt
Get your hands on our Military Edition T-shirt. Printed on demand locally in Colorado, this custom shirt will only be available for a limited time.
Available in 4 colors and tons of sizes, the 2020 Military Edition T-shirt is completely Made in USA.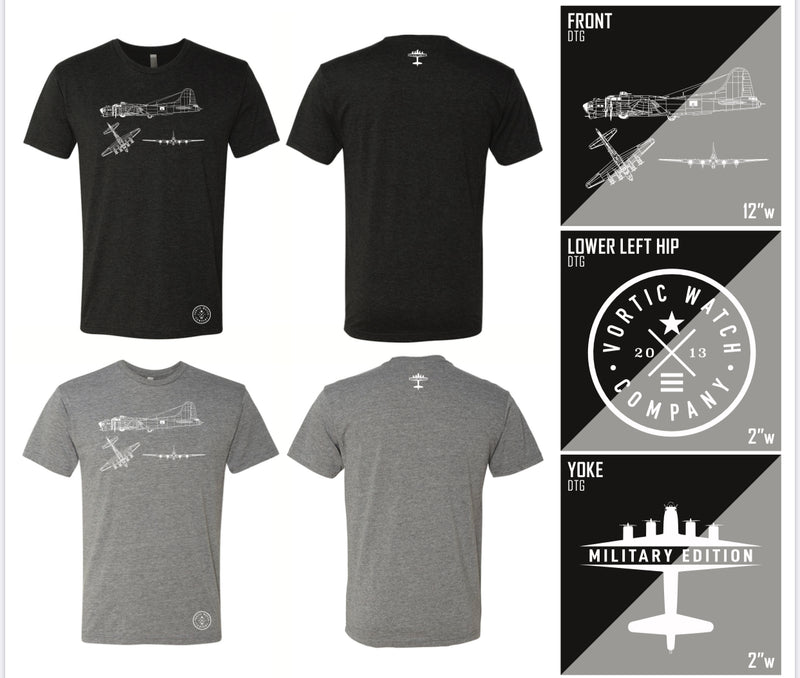 Frequently Asked Questions
What is the price of the Military Edition?
In 2023 we will only be making 30 total Military Edition watches.
There will be 20 watches in the 5th Edition for $8,000 each, and 10 watches in a 2023 Special Edition with a higher price point to be determined soon.
The 50 watches in the 2022 4th Edition with the gunmetal case and black dial were $8,000 each and are now sold out.

The 15 watches in the 2022 Special Edition with the bronze case and the white dial were $12,000 each and are now sold out.
When and how can I purchase the Military Edition?
The Military Edition is offered for sale each year on Veterans Day (November 11th) at 12:00 pm Mountain Time. They go quickly, so don't miss out! Sign up for the waiting list now! On that day at that time, we'll email direct links to purchase, but you can also visit this page (vorticwatches.com/military) to see the products. The top of the page will be updated at 12pm MST, and you may have to refresh your screen to see them.
When will the watches be made and shipped?
For the 5th Edition (2023) we plan to manufacture some of the watches ahead of time and ship them as they are sold. Realistically we can ship the first 5 pieces within a week, and the rest will be made to order after that, ideally shipping the rest by the end of the year.
What size is the Military Edition
The Military Edition is 49mm in diameter and 58mm lug to lug. The strap is 24mm, tapered to 22mm. The straps have been sized to fit any wrist between 6.5 and 8.5 inches (one size fits all). 
Will you make more Military Edition watches?
The Military Edition will be exclusively available on Veterans Day each year. We do not know how many antique pocket watches we can find in the future, so subsequent sets may have fewer pieces available and will likely sell at a higher price.
Is there a Military Discount available?
Yes. Active Duty Military and all U.S. Military Veterans can receive 10% off any purchase on vorticwatches.com by using discount code "Military." You will be contacted after purchase for proof of service.
What parts are antique, and what parts are modern?
Just like all watches in Vortic's American Artisan Series, everything inside the watch is an original, restored antique. All internal components, including the dial (face), hands, and movement (gears and springs that tell time), are from a pocket watch built a long time ago. We restore those antique movements using only original parts and then build a custom engineering system around it. Everything you can touch, on the outside of the watch, is modern. This includes the case, glass, leather straps, crown, etc. 
What does GCT mean, and why is it on the antique dial?
GCT, during World War II, meant Greenwich Civil Time, the standard European timezone. Now called UTC, or Coordinated Universal Time, it relates to the time at 0 degrees Longitude - the location of the Royal Observatory in Greenwich, England. It was the standard timezone for all Allied forces during the war.
Since the movement is roughly 70 years old, how well will the watch keep time?
We take care to restore and regulate each one, but "perfect" timekeeping, similar to a modern wristwatch, is not achievable. Each watch will be adjusted to keep excellent time on a day-to-day basis, but there will be variations from watch to watch. We attempt to regulate timekeeping within 30 seconds per day when averaged across all positions. For day to day use, you should not notice any fault in timekeeping.
The watch industry does not use the term "waterproof." We always say "water-resistant" because every single watch is different, and all customer environments are different. The Military Edition is rated to 5atm of water resistance, meaning it is perfect for day to day use, but not intended for use while showering or swimming.
What is the warranty on the Military Edition?
All Vortic watches come with a 1-year warranty. The bottom line is, if anything ever goes wrong, even after you have the watch for 1 years, we will take care of you. We pride ourselves in our customer service, and we can fix just about anything!
What box or packaging does it arrive inside?
Check out the link below for the unboxing of the First Edition! The subsequent editions have some slight changes but those will be a surprise.
All product and company names, logos, brands, and other trademarks featured or referred to within Vortic's products and services are the property of their respective intellectual property rights holders, if any. Those intellectual property rights holders, other than Vortic, LLC, are not affiliated with Vortic, LLC, our products, or our website. They do not sponsor or endorse our materials.