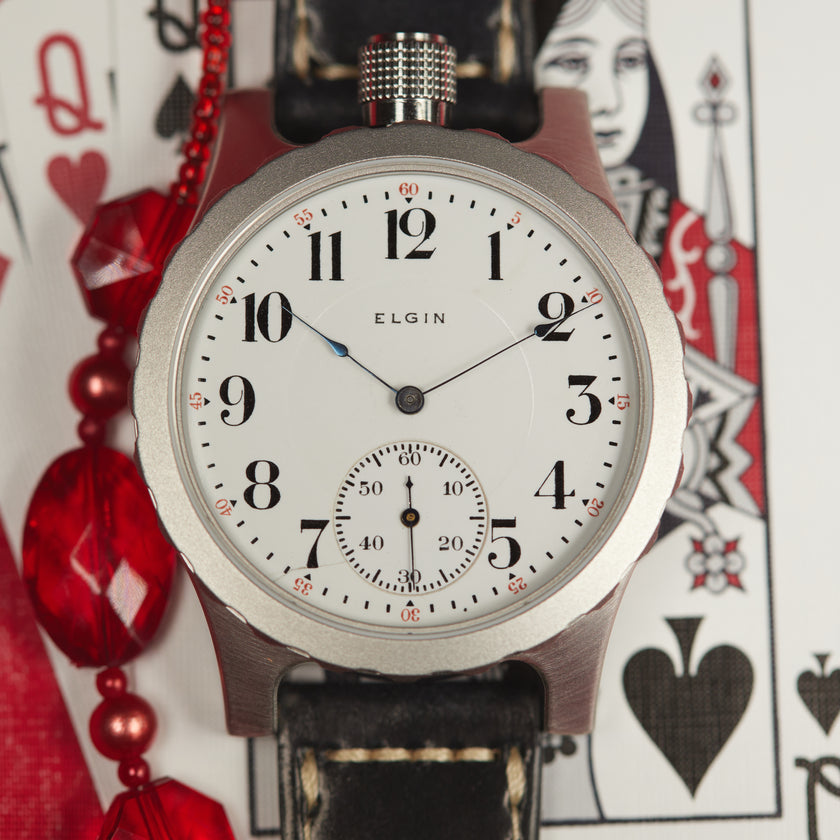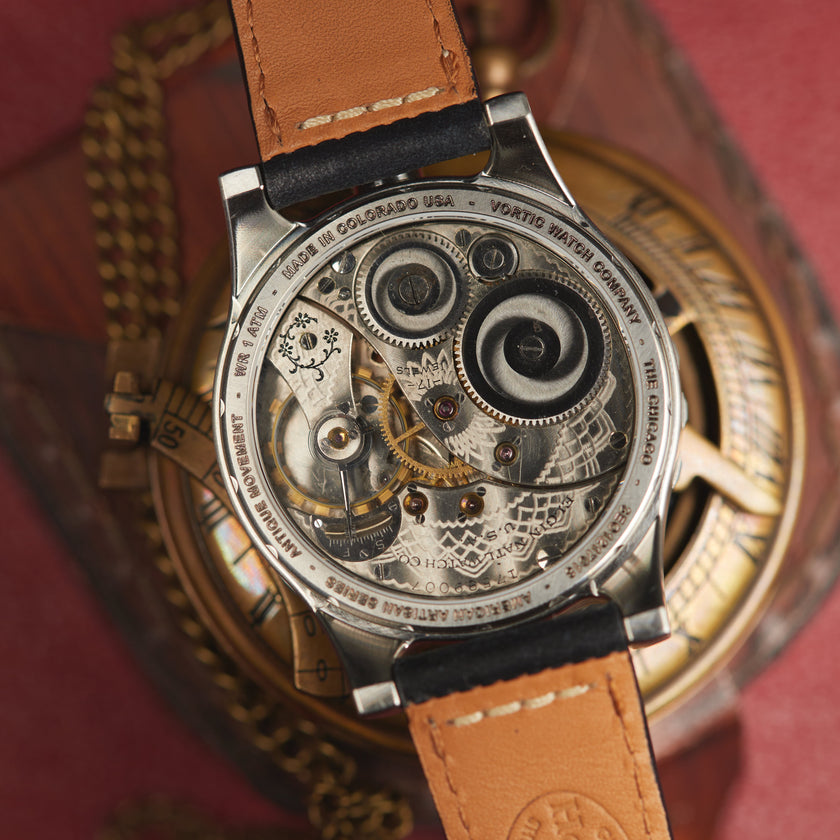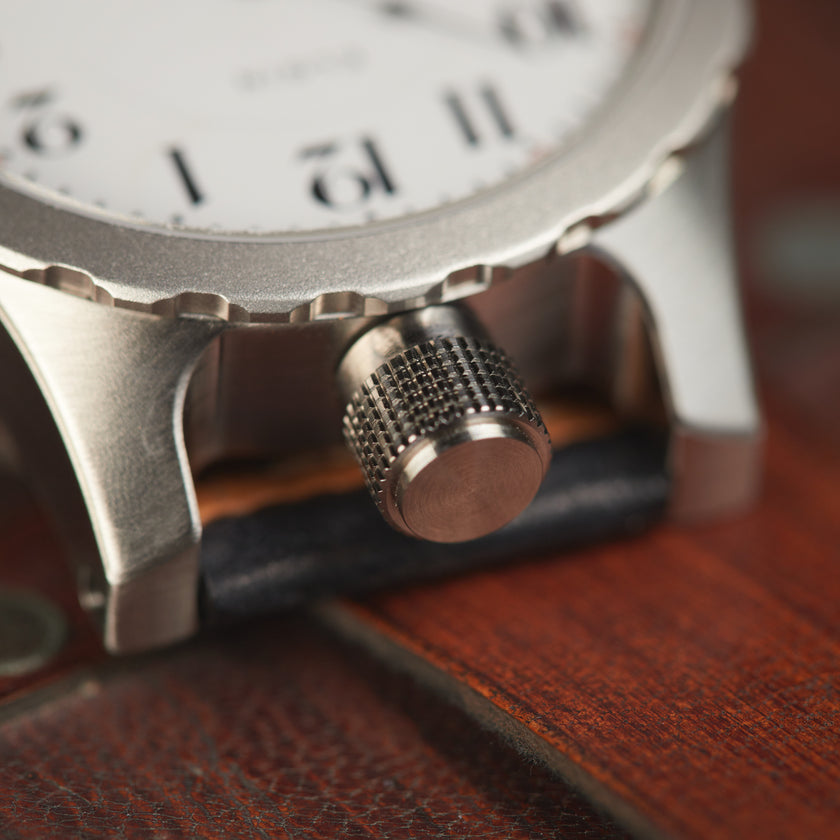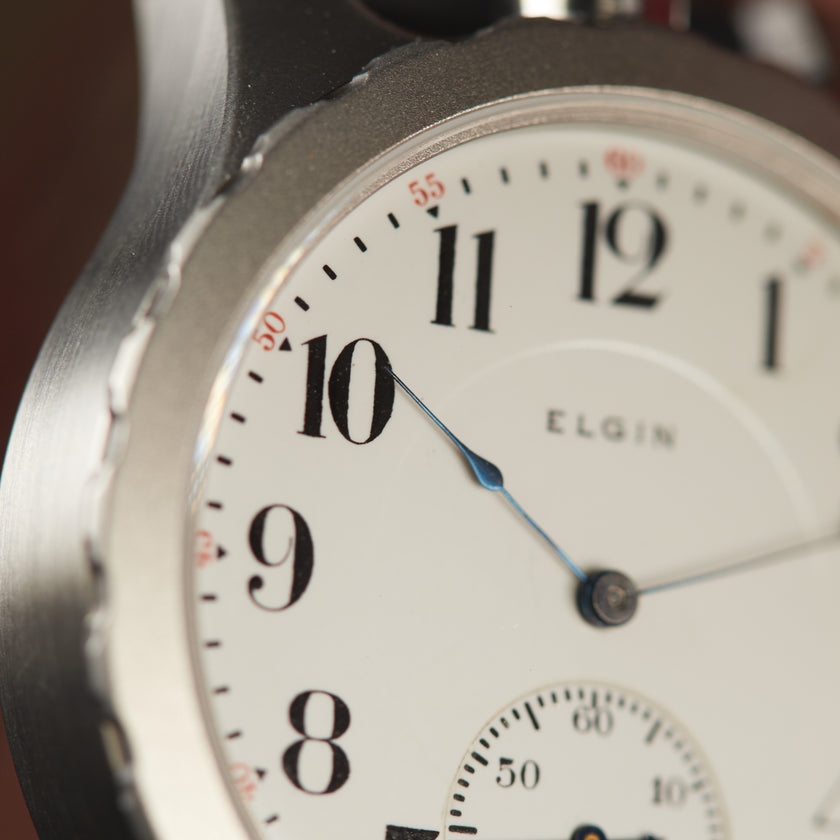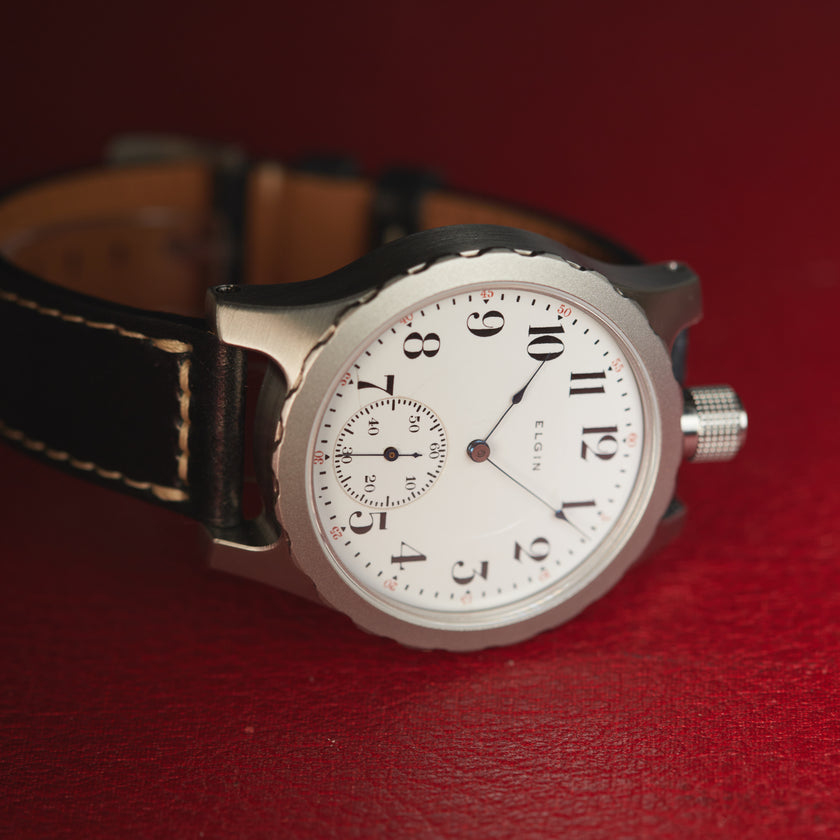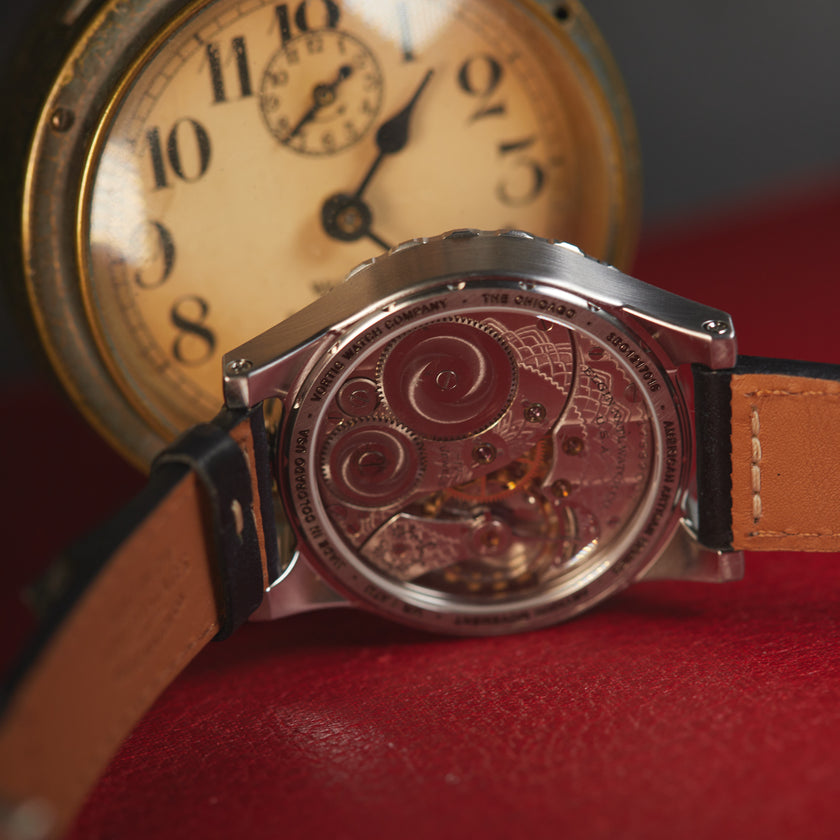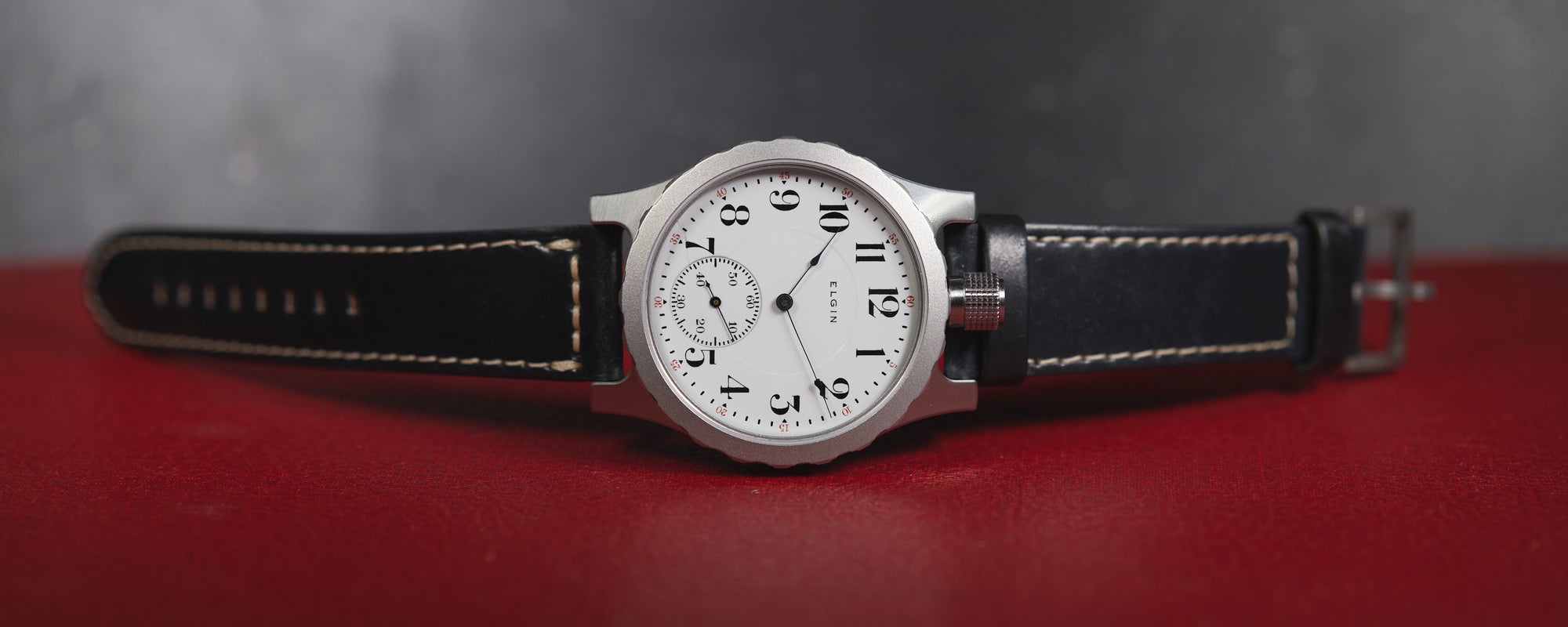 Watch Description
What makes the Chicago 018 unique: The Vortic Watch Company is proud to present the Chicago 018, a pocket watch conversion from the American Artisan Series. This watch is crafted from a 1914 Elgin Watch Company pocket watch with 17 jewels, and has been carefully restored for you to wear as a piece of preserved American History.

This case is made of sandblasted stainless steel, with a satin-finished, scalloped-edge stainless steel bezel. A black cordovan leather strap has been paired with this elegant watch for a comfortable fit. The classic design of this American-made pocket watch is preserved in this modern wristwatch and will now last for a further 100 years or more.

The Chicago 018 is a timeless piece that is sure to be admired for years to come. It is a unique combination of classic style and modern design and the perfect way to show off your appreciation for history and craftsmanship.
_
Movement Manufacturer Information
The movement inside of this watch was made by Elgin Watch Company. We call this model "The Chicago" because of the company's proximity to the city.
Also known as Elgin National Watch Company, Elgin wasn't only the largest watch manufacturer in the United States, but the largest watch manufacturer in the world for almost 100 years, operating from 1864-1964. The company often used a depiction of father time on advertisements. At one point, the company was making 7,500 watch movements per week and had 2,300 employees. The factory was demolished in 1966 and replaced with a shopping center.
Legal Disclaimer: All product and company names, logos, brands, and other trademarks featured or referred to within Vortic's products and services are the property of their respective intellectual property rights holders, if any. Those intellectual property rights holders, other than Vortic, LLC, are not affiliated with Vortic, LLC, our products, or our website. They do not sponsor or endorse our materials.
Watch Specifications
Manufacturer:

Vortic Watch Company

Model Year:

2023

Warranty:

Full 1-Year Warranty

Case Diameter:

45mm

Case Material:

Sandblasted

Crown/Hardware:

Stainless Steel

Water Resistance:

1 ATM

Crystals:

Sapphire

Case Back:

Stainless Steel

Strap:

Leather
Movement
Manufacturer:

Elgin Watch Company

Serial Number:

17589007

Manufacture Year:

1914

Function:

Manual Wind

Jewels:

17 Jewels

Hands:

Original

Size:

12s

Power Reserve:

~36 Hours
What makes the Chicago 018 unique: The Vortic Watch Company is proud to present the Chicago 018, a pocket watch conversion from the American Artisan Series. This watch is crafted from a 1914 Elgin Watch Company pocket watch with 17 jewels, and has been carefully restored for you to wear as a piece of preserved American History.

This case is made of sandblasted stainless steel, with a satin-finished, scalloped-edge stainless steel bezel. A black cordovan leather strap has been paired with this elegant watch for a comfortable fit. The classic design of this American-made pocket watch is preserved in this modern wristwatch and will now last for a further 100 years or more.

The Chicago 018 is a timeless piece that is sure to be admired for years to come. It is a unique combination of classic style and modern design and the perfect way to show off your appreciation for history and craftsmanship.
_
Let customers speak for us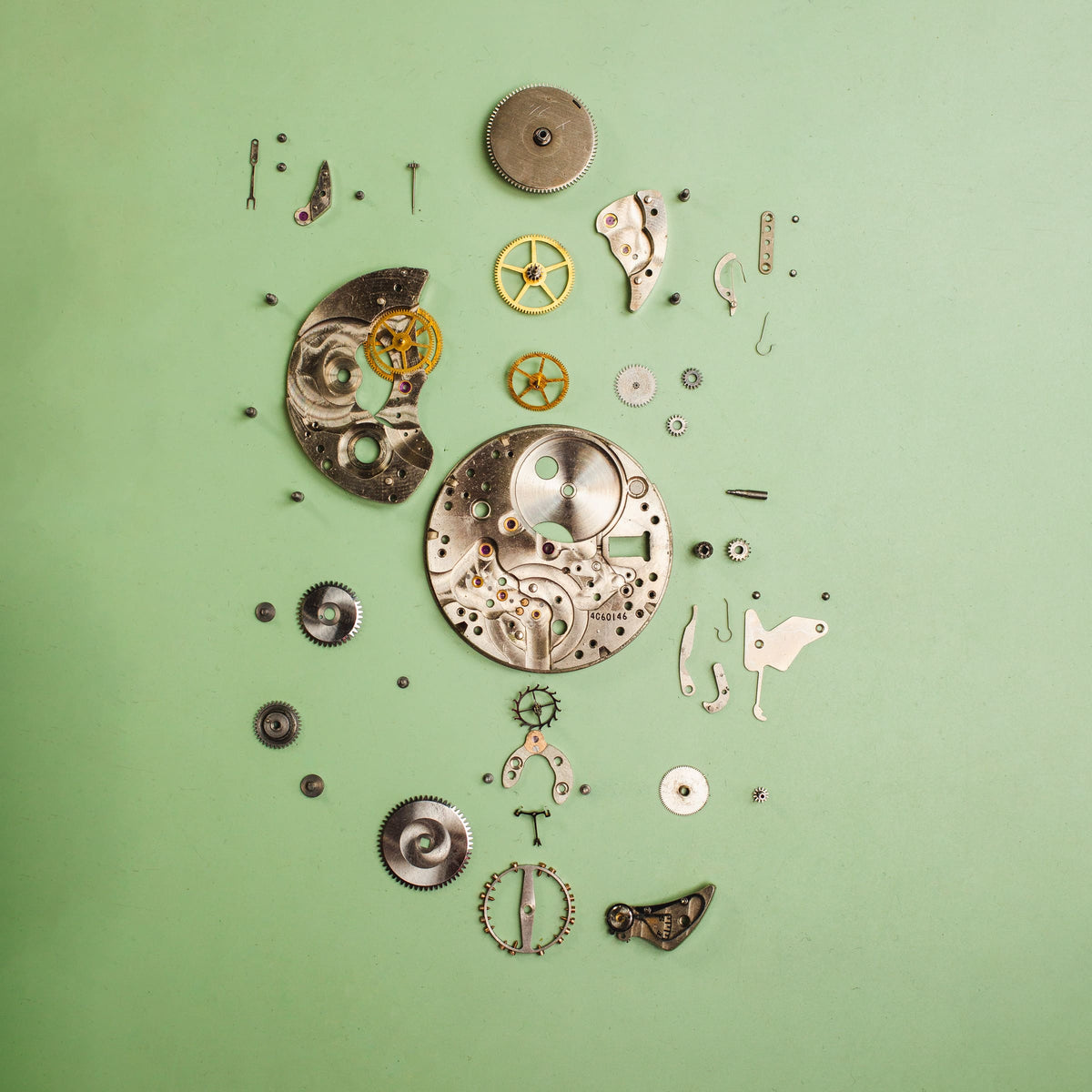 The Movement
The engine that powers this watch is an antique American pocket watch movement. All the gears and springs that make it tell time are roughly 100 years old on average. We call these watches the American Artisan Series because we're celebrating the history and legacy of the artisan watchmakers who built this engineering marvel a century ago in the United States.
The Story
Today most pocket watches are scrapped for the gold or silver of the case (the outside of the antique timepiece), leaving the inside (what we call the "movement") as trash.
We take pride in upcycling these pieces of American history by salvaging as many as we can, then preserving them inside our wristwatches.
Our expert team of watchmakers restores the antique movement and then we manufacture a custom wristwatch case here in Fort Collins, Colorado.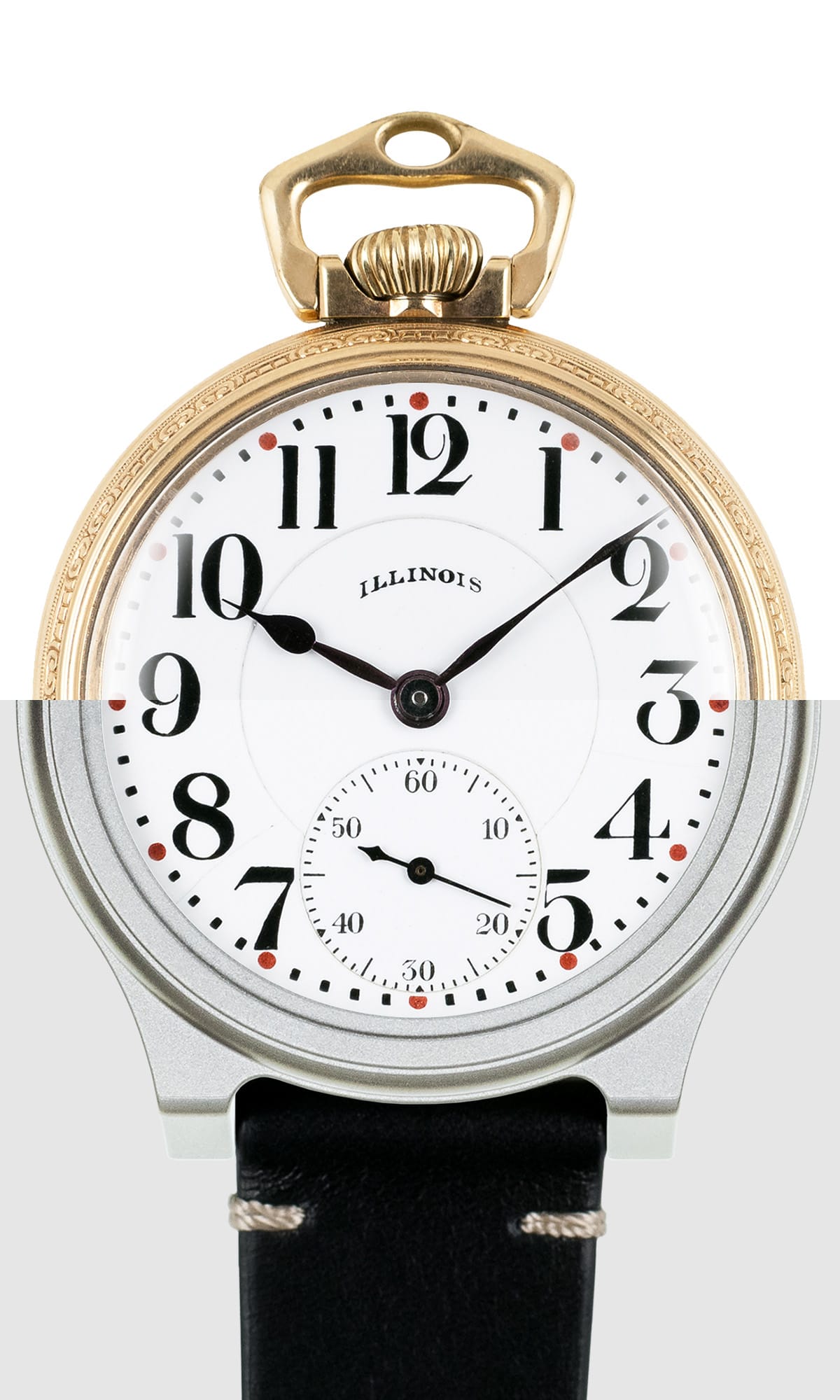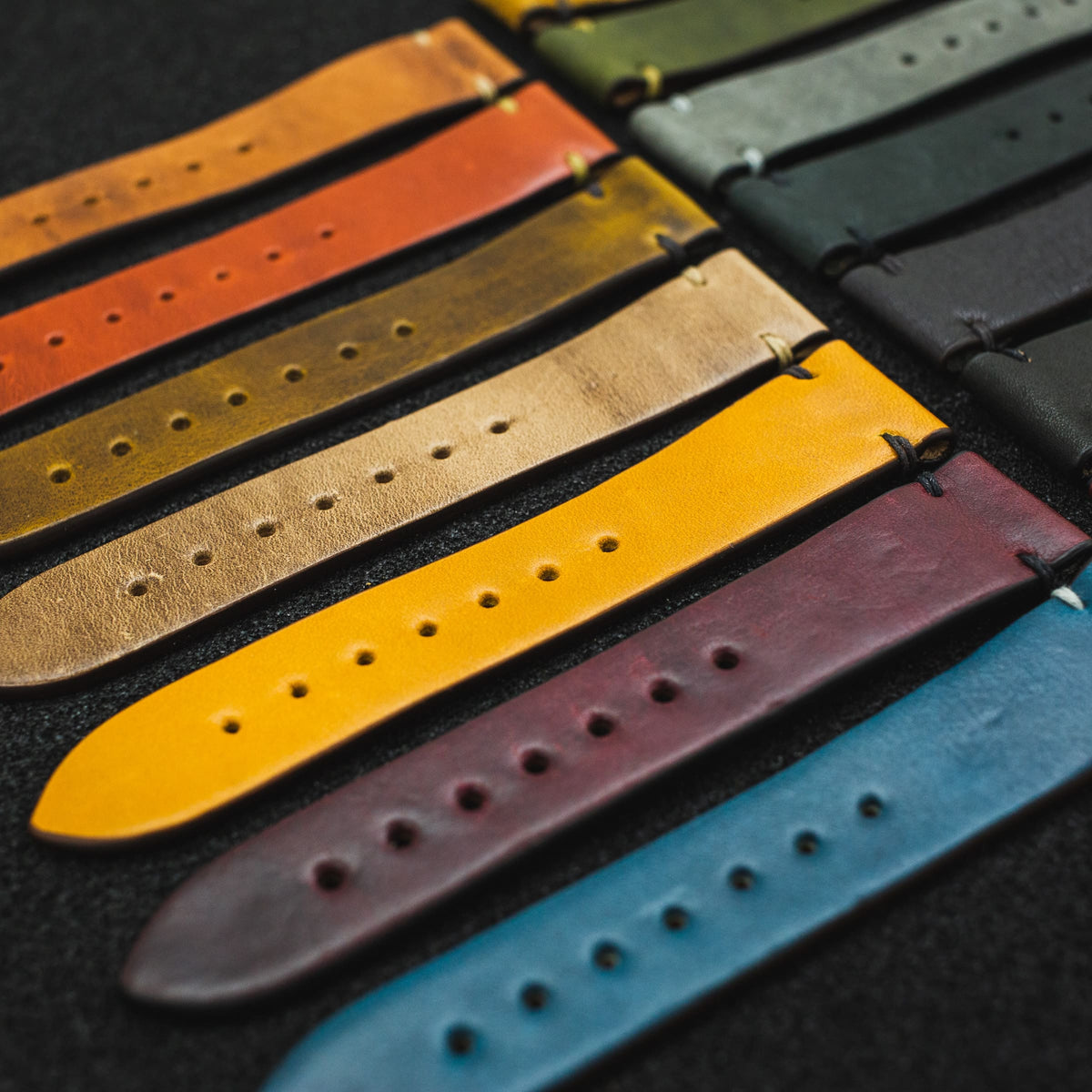 The Strap
We partnered with Worn & Wound to produce a custom set of straps for our American Artisan Series watches. We now have 15 different colors to choose from including our two Horween Shell Cordovan options. These straps are made in the USA and are based on the Windup Model 2 Premium strap that Worn and Wound offers.