We took our machined titanium case and spent some time getting a different finish that would provide a middle ground between our fresh bright titanium color and our dark black DLC. The result we call "gunmetal" and it's pretty cool. So cool in fact that the watch sold before we could even post about it on social media!
If you like this case option and want to see more of it, please let us know by replying to this email or commenting on our Instagram or Facebook posts. We love all feedback and will continue to make new and different things as we grow!  
What a beautiful, clean and simple design on this amazing Elgin! This watch's movement is from the Elgin Watch Company. Also known as Elgin National Watch Company, Elgin wasn't only the largest watch manufacturer in the United States, but the largest watch manufacturer in the world for almost 100 years, operating from 1864-1964.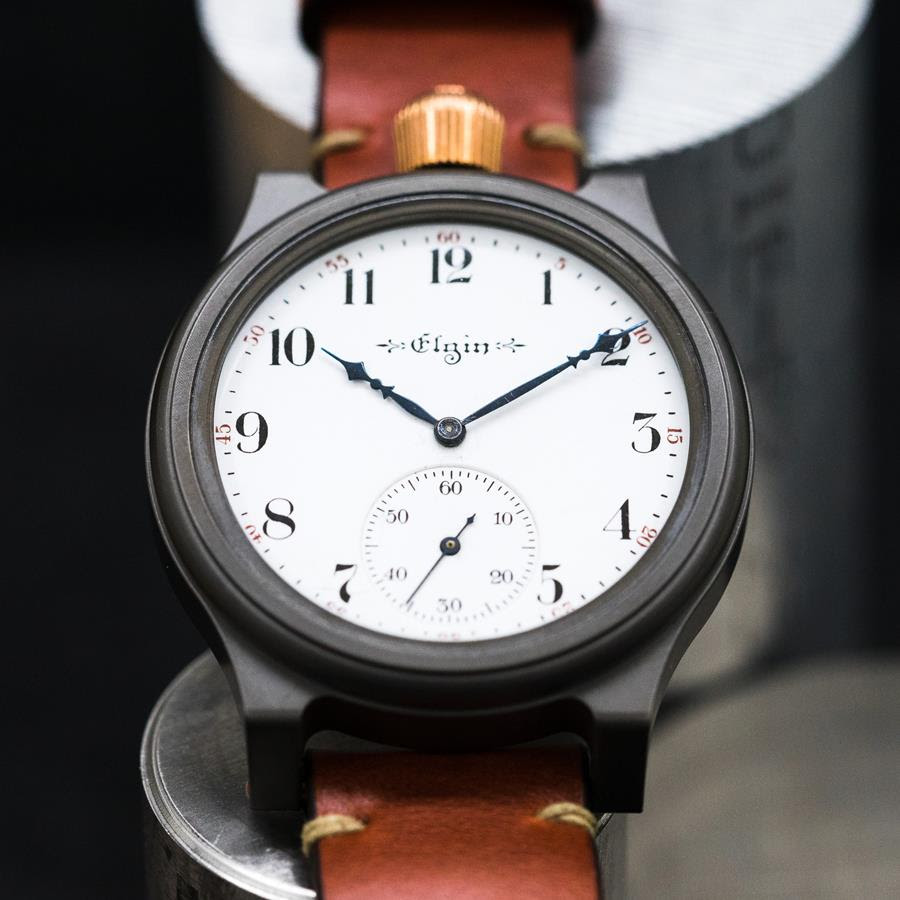 The company often used a depiction of father time on advertisements. At one point, the company was making 7,500 watch movements per week and had 2,300 employees. The factory was demolished in 1966 and replaced with a shopping center.
This "gunmetal" case was made using time and temperature in our kiln as well as a polishing process in our barrel tumbler. It's definitely something we could do again and was so much fun to make! The shade of grey is a great way to accentuate the beautiful white dial of a lot of these pocket watches without being too starkly different like a solid black case.
We also manufactured the buckle for this watch, and like a lot of the new components, we added our signature. Proudly made in America and built in Colorado, this watch is a beautiful clash of old and new technology.
We are working very hard to scale up our production and make more watches. We appreciate you giving us some time to catch up, and we can't wait to have more inventory. Unfortunately, we need more time... (no pun intended). 
The Watch of the Day program (5 watches per week) is expected to come back in a month or so. We'll keep you posted, and we'll keep making at least one watch weekly!