Check out the images below for the Weekly Roundup of our most recent Watch of the Day watches, but first, if you want a copy of our Entrepreneur Magazine to read our recent feature, please respond here and let us know.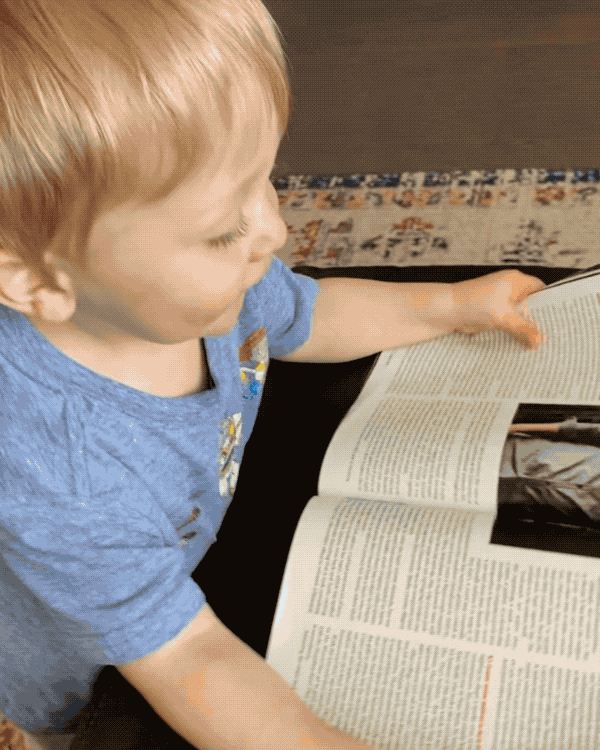 R.T.'s son Wesley got the news! "Dada" is in Entrepreneur Magazine! If you haven't read the story about the Hamilton v Vortic, David & Goliath battle, you can do so online at the link below or just respond to this email and we'll mail you a print copy!
Note that it's behind a paywall on Entrepreneur's website, so you may have to sign up for a free trial or subscribe to view it online. 
Here's your weekly round-up! Click the images of the watches to learn more about them.  Make sure to check the website at 12 PM Mountain Time for the Watch of the Day! They sell quickly. This week we have five watches queued up. Keep your eyes out for the perfect watch for you!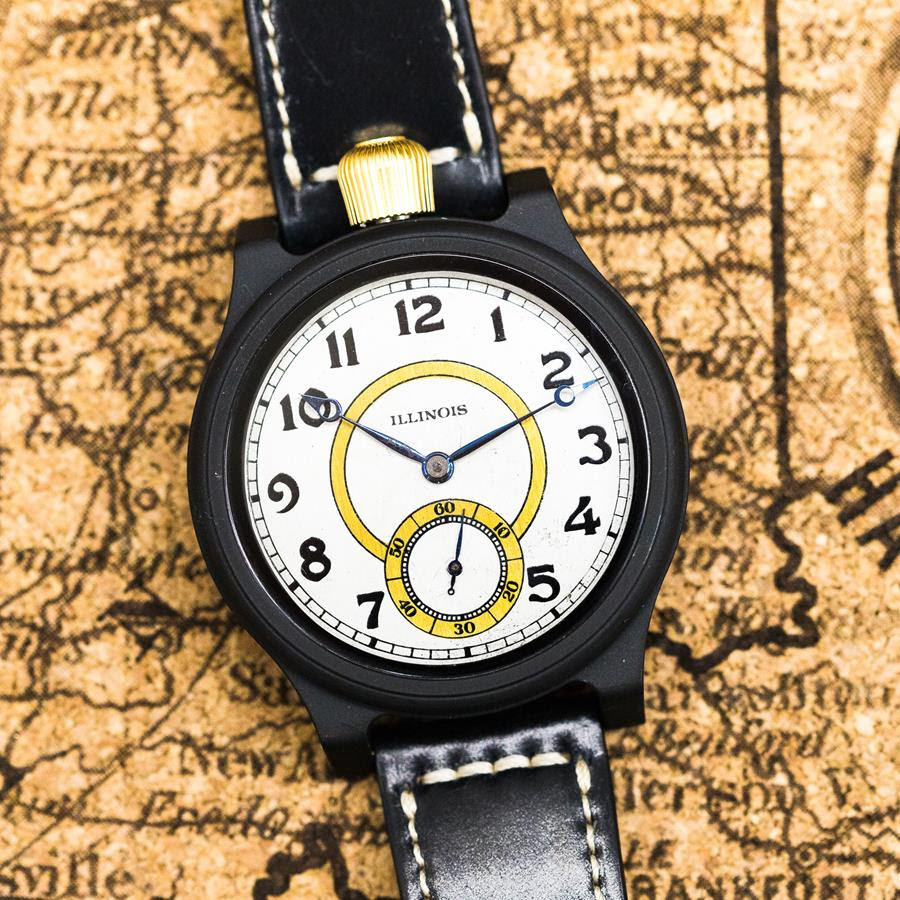 We decided for the next week that we would feature our DLC cases, and are kicking it off with this fantastic Springfield 384. This process stands for "Diamond-Like Coating" and is applied to the case similarly to a powder coating. This coating is almost as strong and durable as a diamond and is what gives us a nice clean way to make our titanium cases stark black. A more modern take on vintage inspiration gives the look and feel of a new watch, with the antique mechanical movement still at the heart.
We chose a black cordovan strap to keep the dark look and let this amazing gold and white dial stand out. 17 screw-set jewels power the rose gold gears and brass balance, giving the back of this watch a lot to show off. The spiral pattern machined to the ¾ bridge plate and gold hardware do a wonderful job of dressing up this movement dating all the way back to 1918. In this same year, the United States passed the Standard Time Act which designated the official time zones within the country as well as standardizing Daylight Savings Time. Many of the Railroad Companies across the country already used systems to work within the time zones, however, it wasn't until this time that it became law.
Illinois Watch Company was contracted by the Santa Fe Watch Company to create these Santa Fe Special watches, with its headquarters in Topeka, Kansas. The Santa Fe Railroad line traversed the midwest traveling from Kansas to New Mexico and eventually stretched out to California. Originally these watches were made for the Railroad and were 16s lever set movements. This watch came later after the railroad watches and is an homage to some of the earlier models.
We absolutely love this very unique and well-designed dial, cased in our machined bronze and topped off with a nickel-plated crown. This ¾ plate 21 jewel movement has rosegold gears and gold plated balance and hardware all throughout. You can see on the build plate the "Santa Fe Special" matching the rest of the gold elements inside this watch. This watch has its roots based in the locomotive era and is ready to continue to traverse the great United States of America.
Each and every watch we make has been carefully planned down to the smallest details in such a way to accentuate its special characteristics as well as embrace its storied past. We absolutely love it when we can match up these fantastic Gothic hands to the Gothic style numerals along with this very ornate dial.
The machined titanium and nickel-plated crown make everything pop and the black cordovan strap brings it all together for a wonderfully classy timepiece. The Sterling branding on this movement makes this particular version of the Illinois Watch company stand out from others like it. This movement is powered by a micrometer regulator and Breguet hairspring, adorned with 17 screw-set jewels and gold plated hardware.
This watch was originally manufactured in Springfield, Illinois in 1925, not far away on the other side of Lake Michigan, the Chrysler Corporation was founded in the same year.
The unique details of the dial on this Boston watch really show just how much these watches would vary from run to run. The total run quantity of this particular watch was only 6,000 watches, and we can only guess how many of those had this particular dial on them. A fun variation of the typical Arabic numerals, this dial also includes a very interesting set of designs around the center of the dial. The patina that shows the wear and tear helps this watch tell a story of what can happen over time. We set this movement in our DLC titanium case with rye strap and copper crown to bring out some of the color and elements of the dial.
This friction set 17Jewel movement was originally manufactured in Waltham, Massachusetts in 1928. At the same time in 1928, the third Mickey Mouse film Steamboat Willie was released to the public. This was the first film released that featured sound. It's crazy to think of how far we have come and yet this watch still holds up after all the tests of time.
This watch is the perfect example of high class and esteem, setting itself apart from the rest with such incredible details. There is not enough that could be said about this magnificent dial and the craftsmanship of the nickel plate, accompanied by the fantastic gold-plated numerals.
We dressed up this movement into our machined titanium case with a gold-plated crown and finished it up with a black cordovan strap. The underside of this watch is no stranger to unique details as well, with the center bridge plate and separate pillar plates to really draw the eye all around the different elements that hold the gears in place. 17 screw-set Jewels and a double roller escapement that helps to keep the watch from overbanking.
Sometimes it is nice to find a watch that begs for a flashy presentation, and this watch has a way of catching your eye from across the room. Originally manufactured in 1930 in Springfield, Illinois, America at this time was just entering the Great Depression era. A lot of amazing American products came out of this era of our history and are a living reminder of the perseverance of our country to get through a dark era in our history. This watch is no exception to the quality American-made products of that time.