Surprise Drop of Two Amazing Watches!
It's Christmas this week! Happy Holidays everyone! 
To celebrate, we made two special Holiday themed watches available now. These are your Watches of the Week! Just like everything we make, these two watches are completely unique, one-of-a-kind pieces and there's only one of each available.
If you order by 4pm Mountain Time (4 hours from now), we can ship today and provide free overnight shipping to arrive by Christmas.
Check them out and let us know what you think!
-If you have a custom watch in production like a Military Edition, you will receive a personal email within the next few days with an update and a new timeline estimate. We're working through them as fast as we can, but the whole team here will have next week off, so you won't hear much else from us until the new year.

When we procured this dial we knew it must be used for something special and while Saint Patrick's Day was temping, once we got this stunning dial in a machined bronze case with a Cordovan Oxblood strap it was a game over. This watch is simply meant to be boasted through the holidays. One of our co-founder's R.T. actually grew up on his family's Christmas tree farm, helping families every season find their perfect tree for the holiday! 2020 was the final year for the DeLong Christmas Tree Farm and so we would like to dedicate this watch to R.T.'s family legacy, a nod to the entrepreneurial spirit he continues to embody, and Jean, R.T.'s mom, who passed earlier this year.



A true Conversation Piece, this dial is not only Christmas tree green but it has a scalloped texture to the dial that reminds us of the layers of branches. The gold numerals are accented by small circles and diamonds like ornaments decorating the dial. It's not perfect and has a large fracture between the 5 and 7 numerals, but that's pretty common when you see things this rare. We kept it all original for your viewing pleasure!


The movement is nothing to scoff at either, 17jewels produced by the Elgin Watch Company in 1911 - more than 100 years ago! You can see some designs engraved on the movement including the floral swirl you can find on many Elgins. This watch is very special to us and we look forward to it finding the perfect wrist to call home for many generations to come.

We couldn't just stop at one this Christmas! For a totally different aesthetic, we have a more ornate and delicate styled Holiday watch. We have seen some pretty Elgins but this one is especially intricate, with all of the gold detail across the pristine white dial, this watch makes you say "WOW". These hands are not only unique but add a gorgeous flair to this festive dial.


The black roman numeral allows for the numbers to jump off the dial and we are excited to see how this case continues to patina while the round gold crown will continue to bring out the gold accents on the dial. This movement was produced in 1922 by the Elgin Watch Company, the same year the United States Lincoln Memorial was dedicated!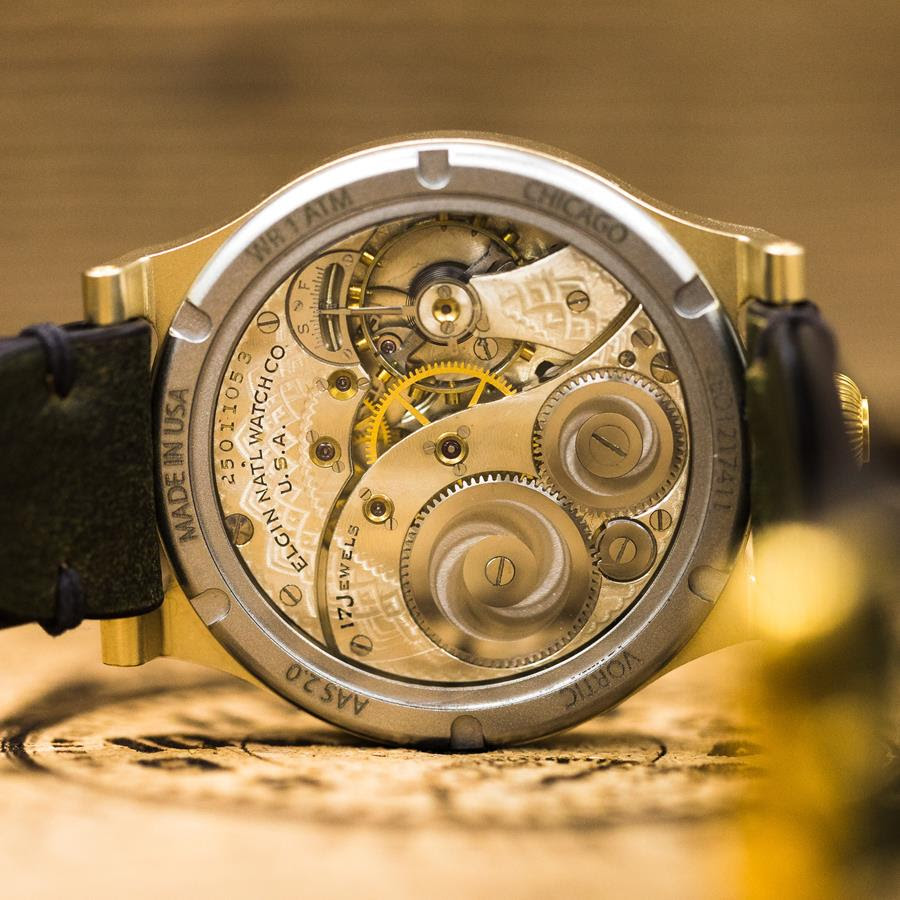 PS - There's Still One Left!
Go to vorticwatches.com/military to learn more about the Military Edition and see what we have left. The Special Edition is sold out, but we do have ONE of the Second Edition remaining for pre-order!