Thankful For Our Friends This Year
On this week of Thanksgiving, we're especially thankful for our friends and partners who weathered the storm of 2020 alongside us. One, in particular, is Autodesk, the software company behind Fusion 360. Without them, we wouldn't be able to design and manufacture our products as quickly. Check out this video they made featuring us as one of their favorite customers!
Today's Watch of the Week is the Springfield 360. 
One of our favorite parts of what we do here at Vortic is preserving the dials and movements we have in our inventory. The wear and tear on dials like the one featured in this watch tell such a story of the life this dial has lived. It's part of why we call our watches "Conversation Pieces". This dial and movement were produced by the Illinois Watch Company in 1923, the same year the NY State Golf Association formed.
The art deco style numerals are very fitting for the time period and we love the blue accents! We chose our DLC black case paired with a knurled nickel crown and the limited stock Navy strap. This unique movement has 17jewels and something we have yet to see - an engraving stating "The Leader". We haven't found any references to it so it may have been a custom engraving commissioned for someone in particular! In addition, this movement is a "Double Roller". For those of you who know your way around a movement, the double roller safety action allows for a more efficient engagement between the guard pin and the roller since the roller is of a much smaller diameter.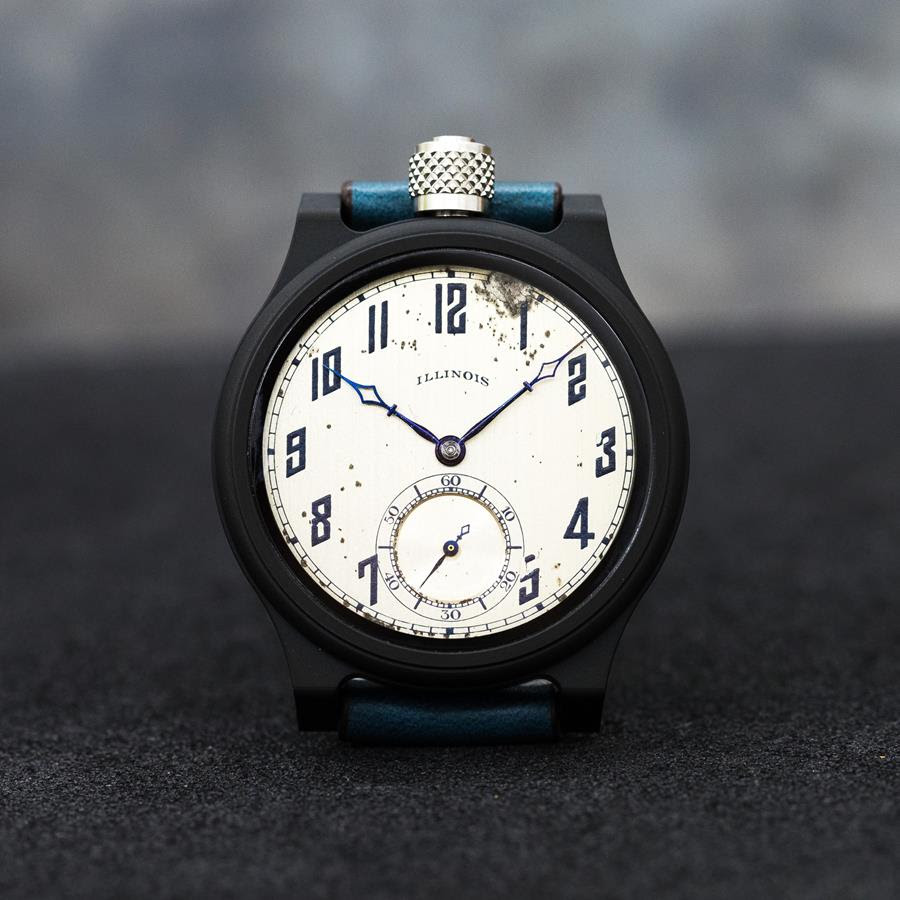 Our 2020 Black Friday Sale Is Live!
From now until Cyber Monday get one of our T-shirts, hats, or leather pouches for 50% off!