Check out these recent interviews
Hey! I'm R.T. Custer, Co-Founder and CEO of Vortic. Recently I was interviewed for two different podcasts and I was able to share Vortic's story as well as a bit of my story. Check them out and let me know what you think!


Your normal weekly roundup of watches is below if you'd prefer to skip to that!


On the Cam & Otis show
we discussed the founding story of Vortic and they asked some awesome questions I've never been asked before like "How do you find and hire good people?" and "How'd you get into the engineering of all this?" Cam and Otis are so much fun to talk to, and I could have kept this one going all day!
The Cam & Otis Show
Reaching Beyond Podcast With Kyle Depiesse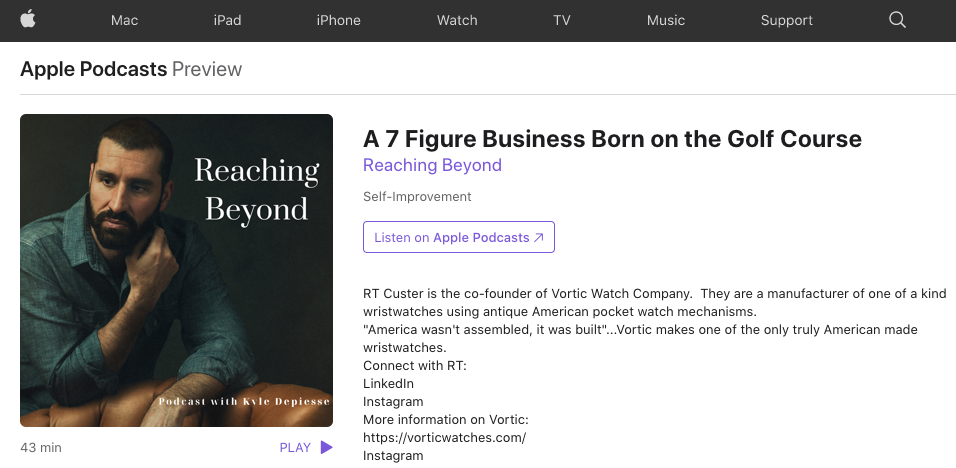 In this podcast interview,
my friend Kyle and I discuss all things entrepreneurship including the story of Vortic from the idea on the golf course to reaching beyond a 7-figure business today. Kyle asks some very deep, thought provoking questions. I had a blast on this one.
PS - if you're into golf, check out his amazing experience he's hosting in October. I'll be there! It's my 30th birthday present to myself.
The Weekly Roundup
Here's your weekly roundup from Vortic Watch Company! Check out the last 7 watches from our Watch of the Day program.
Click on any of the images below to learn more about that particular watch.
The Rockford 027
The Chicago 240
The Boston 110
The Springfield 287
The Springfield 281
The Boston 152
The Chicago 388
If you know you'd like a daily alert for new watches, please email us at info@vorticwatches.com. Otherwise, another good option is social media, especially Instagram.
Don't forget, every watch we make is one-of-a-kind, so when you get one, it's yours and yours alone.